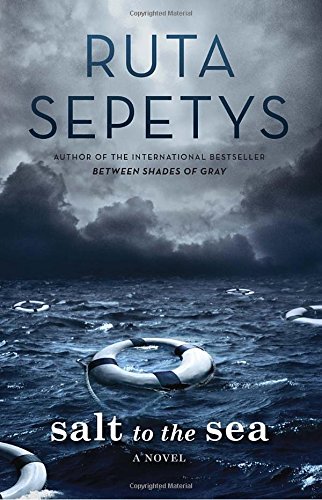 Publisher's Note:
For readers of Between Shades of Gray and All the Light We Cannot See, bestselling author Ruta Sepetys returns to WWII in this epic novel that shines a light on one of the war's most devastating—yet unknown—tragedies.

World War II is drawing to a close in East Prussia and thousands of refugees are on a desperate trek toward freedom, many with something to hide. Among them are Joana, Emilia, and Florian, whose paths converge en route to the ship that promises salvation, the Wilhelm Gustloff. Forced by circumstance to unite, the three find their strength, courage, and trust in each other tested with each step closer to safety.

Just when it seems freedom is within their grasp, tragedy strikes. Not country, nor culture, nor status matter as all ten thousand people—adults and children alike—aboard must fight for the same thing: survival.

Told in alternating points of view and perfect for fans of Anthony Doerr's Pulitzer Prize-winning All the Light We Cannot See, Erik Larson's Dead Wake, and Elizabeth Wein's Printz Honor Book Code Name Verity, this masterful work of historical fiction is inspired by the real-life tragedy that was the sinking of the Wilhelm Gustloff—the greatest maritime disaster in history. As she did in Between Shades of Gray, Ruta Sepetys unearths a shockingly little-known casualty of a gruesome war, and proves that humanity and love can prevail, even in the darkest of hours.
Salt to the Sea
by Ruta Sepetys
Overall Review:
Powerful. Intense. Heartbreaking. Hopeful. Author Ruta Sepetys' novel Salt to the Sea, a historical fiction set at the end of World War II, is all of that and more. Told from the perspective of four teenagers dealing with the tragedies of war, Sepetys brings to life the events leading up to and including the sinking of a German passenger ship. With well-researched events, the tragedy is made personal through the completely different points of view of Joana, Florian, Emilia, and Alfred, four teenagers whose lives all become connected as the war comes to an end. What makes Salt to the Sea such a powerful novel though is Sepetys ability to take a tragedy (and the events leading up to it) and make it relevant to today's teenagers, and she does so with captivating story telling. While today's teens will never hopefully have to trudge through a frozen war torn land, wondering who is friend or foe, they will appreciate the lessons and examples of fortitude, resilience, hope, and kindness that can shine through even the darkest and most trying of times.
Joana, Florian, Emilia and Alfred all come from very different backgrounds, even nationalities, and each has secrets they are not only trying to hide, but come to terms with. These teens have had to face many long years of war as well as the atrocities that come with it and each has had to leave the innocence of youth behind as they are now basically running for their lives. As their paths converge, secrets come to light, giant obstacles are overcome, and hope as well as love are found amidst the chaos and tragedy of war. Salt to the Sea is a moving and thought-provoking novel that deals with hard things and leaves the reader questioning one's own character. In the end, this novel gives one a sense of hope and goodness despite the fact that evil does exist.
Check out the other books by Ruta Sepetys: Between Shades of Gray and Out of the Easy.
Content Analysis:
Profanity/Language: 4 religious exclamations; 6 mild obscenities.
Violence/Gore: Character thinks about both Nazis and Russians wanting to torture and kill him; soldier points gun at character (2 accounts); character shoots someone in self-defense; secondhand account of person stumbling and getting run over by a wagon; account of Hitler and the Nazis having killed millions for being different (4 mentions); account of waiting out a bombing; account of someone dripping blood on to the snow (no details given of injuries); mention of having poison just in case one is caught by Russian troops; secondhand account of seeing a dead person lying in a ditch; mention of having to remain unfeeling towards others so he could kill if needed; mention of fear of getting shot in the head if found by the Nazis; account of Russian soldiers massacring an entire village including accounts of mailing woman to barn doors and mutilating children; secondhand account of people being strangled with piano wire; description of wound from shrapnel and then the process of cleaning it out without anesthetic; mention of others dying of heat while they deal with those dying of cold exposure; secondhand account of Russian soldiers using "raping and pillaging" to frighten enemies; character shoots a soldier; mention of someone being executed; mention of Hitler wanting anyone with disabilities killed; character discovers a family dead in their beds with the story recreated of how it might have happened as a murder/suicide to avoid getting caught by approaching army; mention of group of people getting hit with a bomb; character sees another fall through the ice and get trapped underneath; characters are shot at by soldiers; soldier dies in the arm of a nurse; woman is described as holding her dead baby which she insists is just sleeping; secondhand account of people being ready to take their own lives instead of leaving their lands if the army should come; character describes experience of being offered as an alternative to someone's daughter pillaging the village and then being dragged off by them; secondhand account of soldiers dropping chemicals on traveling refugees; character recounts how his father was hanged for opposing Hitler; character slaps another in the face; account of mothers throwing babies trying to get them onto the departing ship and not making it; secondhand account of someone being tortured and dying in Stalin's prison; mention of woman and child laying in blood on the floor with the implication they had been shot; account of someone drowning; account of seeing people, who had drowned, floating in the water all around them (2 pages); account of dead person floating in water as if dancing; person fights off someone who was trying to push her into the water; person falls, hits head and then falls into the freezing water.
Sex/Nudity: Young man told that if they got caught by the Russian soldiers they would make him his "girlfriend"; mention of 600 babies being born in a town after the Russians invaded a year before; characters briefly hold hands; mention of Russian soldiers being "under their skirts" if caught by them; character plays with the curls of another hair in a flirtatious way (2 times); implied rape of character that resulted in a pregnancy; 2 characters kiss (4 times); character runs fingers through another's hair; character embrace; 2 characters embrace and kiss and hold hands.
Mature Subject Matter:
Death, war, rape, birthing scene.
Alcohol / Drug Use:
Character takes cigarettes from dead soldier; character smokes a cigarette (2 accounts); 2 characters share a cigarette; alcohol (vodka) used to clean a wound.
Reviewed By Sally