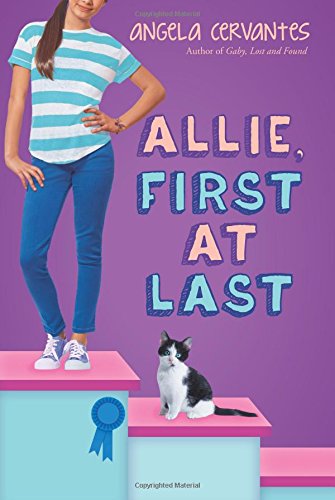 Publisher's Note:
Allie Velasco wants to be a trailblazer.
A trendsetter.
A winner.

No better feeling exists in the world than stepping to the top of a winner's podium and hoisting a trophy high in the air. At least, that's what Allie thinks . . . she's never actually won anything before. Everyone in her family is special in some way -- her younger sister is a rising TV star; her brother is a soccer prodigy; her great-grandfather is a Congressional Medal of Honor winner.

With a family like this, Allie knows she has to make her mark or risk being left behind. She's determined to add a shiny medal, blue ribbon, or beautiful trophy to her family's
award shelf. When a prestigious school contest is announced, Allie has the perfect opportunity to take first -- at last. There's just one small snag . . . her biggest competition is also her ex-best friend, Sara. Can Allie take top prize and win back a friend -- or is she destined to lose it all?
Allie, First At Last
by Angela Cervantes
Overall Review:
What would any normal 5th grader do when they come from a family of over-achievers? Why become obsessed with winning something for themselves, of course! This is exactly what Allie does in this new novel by Angela Cervantes, titled Allie, First At Last. However, just like many good intentions, things get a little out of control. Allie takes the mindset of winning a little overboard and it begins to cost her. Does she learn her lesson too late? Is the damage done? Well, these are things that all come to light in the novel, and Allie is on her way to figuring them out and learning a little something about what is most important in life.
In Allie, First At Last lessons of what it means to be a true hero and the fact that there are better ways to measure the worth of a person than medals and trophies are taught. The problem though is that for Allie these are hard things to learn when your focus has been on one thing for so long. In the end, friendship, family and making the world a better place for others are where the real prizes are and Allie just might be on the right track to learning that. These lessons are also good reminders for anyone going through life, but especially for those trying to navigate middle school life and leaving a mark on the world at the same time.
Be sure to check out Gaby, Lost and Found, also by Angela Cervantes.
Content Analysis:
Profanity/Language: None
Violence/Gore: None
Sex/Nudity: None
Mature Subject Matter:
War, death of family members.
Alcohol / Drug Use:
None
Reviewed By Sally