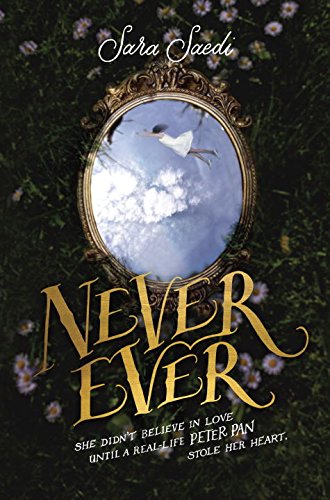 Publisher's Note:
Wylie Dalton didn't believe in fairy tales or love at first sight.

Then she met a real-life Peter Pan.

When Wylie encounters Phinn—confident, mature, and devastatingly handsome—at a party the night before her brother goes to juvie, she can't believe how fast she falls for him. And that's before he shows her how to fly.

Soon Wylie and her brothers find themselves whisked away to a mysterious tropical island off the coast of New York City where nobody ages beyond seventeen and life is a constant party. Wylie's in heaven: now her brother won't go to jail and she can escape her over-scheduled life with all its woes and responsibilities—permanently.

But the deeper Wylie falls for Phinn, the more she begins to discover has been kept from her and her brothers. Somebody on the island has been lying to her, but the truth can't stay hidden forever.
This book was sent to Compass Book Ratings for review by Penguin
Never Ever
by Sara Saedi
Overall Review:
Peter Pan is a timeless tale that has been loved by children and adults for many years. Sara Saedi's interpretation is nothing short of fantastic. Never Ever is set in a modern time but as the story makes its way to Minor Island, it's almost as if you're transformed back in time. Saedi's twists are imaginative and whimsical, just as you'd expect "Neverland" to be. The familiarity of so many details from the original tale make the story relatable and so fun, but the way she chooses to take those recognizable references and makes them her own are delightful, engaging, and at times humorous. The way Phinn (Pan) is portrayed was one of those great twists. This was such an engrossing story and it became extremely suspenseful, especially during the last fifty pages. The book was everything I'd hoped and more and I can't wait to continue on with the story in Saedi's sequel. If you love fairytale retellings, Never Ever is an absolute must!
Review of an Advance Reader's Copy
Content Analysis:
Profanity/Language: 3 religious exclamations; 9 mild obscenities; 4 derogatory names; 4 scatological words; 5 anatomical terms; 1 offensive hand gesture. Note: 1 reference to adults saying expletives and F-word derivatives but the actual words aren't said.
Violence/Gore: Several (13) brief incidents including book has character that literally kills people with kindness; character joking about getting killed; character mentions not being afraid to gouge out someone's eye out of as self-defense; character worried that another character might be a serial killer; character jokes about killing self and getting killed by others; character wonders why another didn't kill them; mental threat; secondhand report that young character's parents died; character cuts hand resulting in small wound; character gets sprayed in the eyes with pepper spray; kicking, punching and knocked head on rock.
Sex/Nudity: Several (17) brief incidents including grabbing arm; flirting; touching back; holding hands; kissing; sleeping in the same bed (just cuddling); innuendo; discussing sex (little detail); swimming in underwear; hugging with legs wrapped around waist and kissing all over face; infidelity; reference to character getting pregnant; mention of nude painting.
Mature Subject Matter:
Divorce, infidelity, teenage drinking, drunk driving, depression.
Alcohol / Drug Use:
Teenagers drunk at a party; teenager carries around and drinks from flask often; reference to marijuana; reference to drunk people; assumption that kids are on drugs; accident while drunk driving; story of teenagers drinking wine.
Reviewed By Jenny