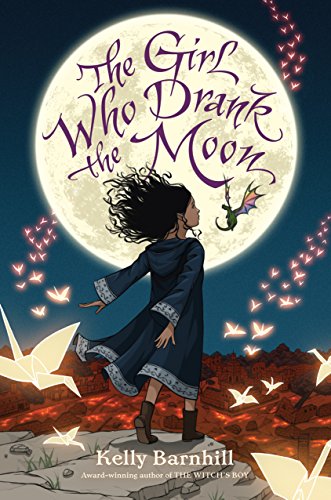 Publisher's Note:
Every year, the people of the Protectorate leave a baby as an offering to the witch who lives in the forest. They hope this sacrifice will keep her from terrorizing their town. But the witch in the forest, Xan, is kind and gentle. She shares her home with a wise Swamp Monster named Glerk and a Perfectly Tiny Dragon, Fyrian. Xan rescues the abandoned children and delivers them to welcoming families on the other side of the forest, nourishing the babies with starlight on the journey.
One year, Xan accidentally feeds a baby moonlight instead of starlight, filling the ordinary child with extraordinary magic. Xan decides she must raise this girl, whom she calls Luna, as her own. When Luna approaches her thirteenth birthday, her magic begins to emerge on schedule--but Xan is far away. Meanwhile, a young man from the Protectorate is determined to free his people by killing the witch. Soon, it is up to Luna to protect those who have protected her--even if it means the end of the loving, safe world she's always known.
The acclaimed author of The Witch's Boy has created another epic coming-of-age fairy tale destined to become a modern classic.
This book was sent to Compass Book Ratings for review by Algonquin Young Readers
The Girl Who Drank the Moon
by Kelly Barnhill
Overall Review:
Author Kelly Barnhill truly has a bewitching voice. With a bard-like style, she weaves her narratives into stories that feel timeless. The Girl Who Drank the Moon is no exception. Lyrical and filled with myriad characters, this story is laced with magic and sorrow--and a truly terrible, but hidden and evil adversary.
This is story-telling at its best, but it is not Harry Potter- or Percy Jackson- style fantasy. It is slower-paced and reads more like a fable and a fairytale than an action-packed thriller. Complex, but first-rate writing that will charm the adult reader--and hopefully some discerning younger readers, too.
The age recommendation is really based upon the narrative style; a precocious nine-year-old could handle and enjoy this book, but it probably lends itself to readers around the age of eleven.
Content Analysis:
Profanity/Language: 2 religious exclamations; 1 mild obscenity.
Violence/Gore: Character is seen with scratches on face and hair pulled out; verbal threat to tear out eyes and throw to crows; baby taken by force for a sacrifice and left in forest; reports of death; character attacked by magical objects causing severe injury, bleeding, and scarring; threat(s) and plan(s) to kill others (general in nature); bird nips a nose; report that heads rolled, with implication that it was literal; fall with minor injury; character cut by magical creatures; reports of deaths in the past from volcanic activity; stone thrown at animal, breaking limb; bird nips finger drawing blood; character crushes nestlings in hands to be cruel; desire to kill a character; character chokes another and is attacked by magical entities; threat to slit throat; attempt to stab with knives; deaths (mostly from old age).
Sex/Nudity: Characters kiss; young man loves a young woman.
Mature Subject Matter:
Death, imprisonment, separation from family, oppression, children taken from families by force.
Alcohol / Drug Use:
Girl gives ale to geese to see if it makes them walk funny.
Reviewed By Cindy