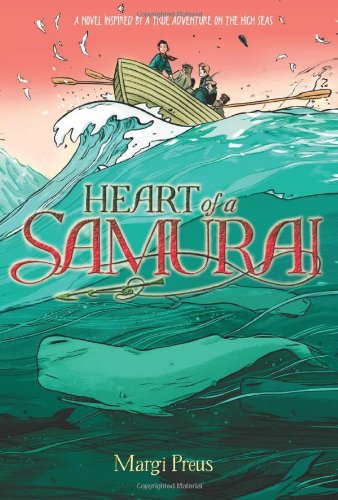 Publisher's Note:
In 1841, a Japanese fishing vessel sinks. Its crew is forced to swim to a small, unknown island, where they are rescued by a passing American ship. Japan's borders remain closed to all Western nations, so the crew sets off to America, learning English on the way.

Manjiro, a fourteen-year-old boy, is curious and eager to learn everything he can about this new culture. Eventually the captain adopts Manjiro and takes him to his home in New England. The boy lives for some time in New England, and then heads to San Francisco to pan for gold. After many years, he makes it back to Japan, only to be imprisoned as an outsider. With his hard-won knowledge of the West, Manjiro is in a unique position to persuade the shogun to ease open the boundaries around Japan; he may even achieve his unlikely dream of becoming a samurai.

Accolades and Praise for Heart of a Samurai
2011 Newbery Honor Book
New York Times Bestseller
NPR Backseat Book Club pick
Heart of a Samurai
by Margi Preus
Overall Review:
Be warned! When you open the pages of Heart of a Samurai, John Mung will reach out and pull you in. It will not be easy to close the covers because this is the journey of an amazing man. Manjiro Nakahama, 1827-1898, (later named John Mung by an American sea captain) was a 14-year-old Japanese fisherman lost at sea during a storm off the coast of Japan who was eventually rescued by an American whaling ship. From that point his life takes a dramatic turn leading him to places all over the world and eventually full circle back to Japan where he continues to astound the reader with his accomplishments during a time when Japan stands at a crossroad.
Being that this is historical fiction, the reader might wonder if author Margi Preus stretched the events in the story. For example, John Mung had 14 occupations and more listed in the epilogue. However, Ms. Preus's research is solid; she provides an extensive bibliography, traveled to Japan twice to research, has four different glossaries to make the terms more understandable, and has included many illustrations drawn by John Mung himself. Ms. Preus builds a believable character for John Mung even though we don't know historically everything he said and felt. She has created a gentle intellectual, a curious and open personality with wisdom and patience.
Ms. Preus's writing background is extensive. She has authored plays, articles, children's books, and served as an artistic director of a comedy theater for 25 years. Heart of a Samurai was awarded a Newbery Honor book in 2011 along with other accolades. Young readers, as well as adults, will be fascinated by John Mung's adventures. Long after the covers are closed, readers will be thinking about this simple man from Japan who helped change his world.
Content Analysis:
Profanity/Language: None
Violence/Gore: The killing of whale is described; a man's face is burned in a fight; the use of a samurai sword slicing up a body is given.
Sex/Nudity: None
Mature Subject Matter:
Racial conflict, physical survival, abuse (emotional, verbal, physical), wrongful imprisonment.
Alcohol / Drug Use:
None
Reviewed By Marilyn