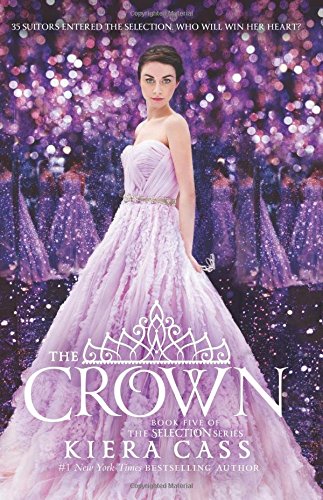 Publisher's Note:
Kiera Cass's #1 New York Times bestselling Selection series has captured the hearts of readers from its very first page. Now the end of the journey is here. Prepare to be swept off your feet by The Crown—the eagerly awaited, wonderfully romantic fifth and final book in the Selection series.
In The Heir, a new era dawned in the world of The Selection. Twenty years have passed since America Singer and Prince Maxon fell in love, and their daughter is the first princess to hold a Selection of her own.
Eadlyn didn't think she would find a real partner among the Selection's thirty-five suitors, let alone true love. But sometimes the heart has a way of surprising you…and now Eadlyn must make a choice that feels more difficult—and more important—than she ever expected.
The Crown (The Selection Series #6)
by Kiera Cass
Overall Review:
Does Eadlyn get her happily ever after to rival her parents' fairytale romance? Will she step into her father's shoes and take over his role? In The Crown, the final installment of The Selection Series by Kiera Cass, the reader gets to see Eadyln grow up a little bit, take on a little more responsibility, and narrow her choice to "The One". The question is which one is the lucky man and that will have the reader guessing to the very end. Along the way there are twists and turns and bumps, many unexpected, that keep the story moving and the reader turning the pages to see where the path leads. The Crown is a fast-paced novel that will be hard to put down.
This installment in the series is less dystopian-oriented than the other novels in the series, but there is a little more romance and the growth in Eadlyn's maturity is a welcome change. The plot is not particularly complex or substantive, but this would be a quick, fun beach read. For more reviews of books in The Selection Series check out The Selection The One The Heir, all by Kiera Cass.
Content Analysis:
Profanity/Language: 2 mild obscenities; 1 anatomical term.
Violence/Gore: Secondhand account of family being murdered by rebels 20 years earlier; character says she could hang or kill someone if he turns out to be a traitor (2 times); character explains how he got the scars on his back from canings at his father's hand; character says how his father grabbed his arm and dislocated his shoulder.
Sex/Nudity: Boy and girl hug (21 times); boy and girl kiss (6 times); boy and girl hold hands (12 times); boy kisses girl on cheek (6 times); boy walks with girl and puts his hand on the small of her back to guide her along; boy caresses girls face (3 times); boy puts arm around girl (3 times); boy kisses boy on the lips to show interest in a relationship; boy and girl caress each other's hands (3 times); girl puts head on boy's shoulder; girl puts hands on boy's chest (3 times); boy kisses girl's hands; man said to have a mistress; mistress of the man admits to having an illegitimate child.
Mature Subject Matter:
Serious illness, homosexuality, death.
Alcohol / Drug Use:
Man described as being drunk; underage character admits to drinking too much wine; young couple celebrate with wine (2 times); young people drink champagne.
Reviewed By Sally