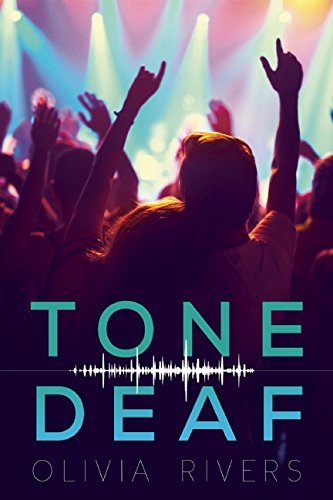 Publisher's Note:
His world is music. Her world is silent.

Ali Collins was a child prodigy destined to become one of the greatest musicians of the twenty-first century—until she was diagnosed with a life-changing brain tumor. Now, at seventeen, Ali lives in a soundless world where she gets by with American Sign Language and lip-reading. She's a constant disappointment to her father, a retired cop fighting his own demons, and the bruises are getting harder to hide.

When Ali accidentally wins a backstage tour with the chart-topping band Tone Deaf, she's swept back into the world of music. Jace Beckett, the nineteen-year-old lead singer of the band, has a reputation. He's a jerk and a player, and Ali wants nothing to do with him. But there's more to Jace than the tabloids let on. When Jace notices Ali's bruises and offers to help her escape to New York, Ali can't turn down the chance at freedom and a fresh start. Soon she's traveling cross-country, hidden away in Jace's RV as the band finishes their nationwide tour. With the help of Jace, Ali sets out to reboot her life and rediscover the music she once loved.
This book was sent to Compass Book Ratings for review by Sky Pony Press
Tone Deaf
by Olivia Rivers
Overall Review:
Poignant. Emotional. Raw. Unexpected. These are just a few of the words that I could use to describe Tone Deaf by Olivia Rivers. Originally, the book sparked my interest due to the story line of a hardcore rock musician rescuing (and falling for) a now deaf classical musician. What I didn't expect was the painstaking beauty in River's portrayal of the character's intertwined lives.
Tone Deaf is told from the perspective of Jace and Ali, the two main characters in this book. Each chapter jumps back and forth between their perspectives, so for those readers who don't like books written in this manner, this one probably isn't one they will like. Jace is the lead singer of a band called Tone Deaf. During a concert in LA, he is beyond rude to Ali. In an effort to salvage his reputation, he brings her back to the venue for another tour. There he discovers she is deaf and a child abuse victim. Jace can relate. He takes it upon himself to help Ali escape her abusive retired-cop father just four months before her eighteenth birthday.
Jace's bandmates and Ali's best friend round out the cast of characters in this novel. Rivers is masterful in her development of characters. Each is uniquely flawed, having a history that is complicated and has shaped their personality. They are some of the most realistic characters I have recently encountered. As Ali and Jace deal with their issues of trust, abuse, history, and uncertainty, they find in each other a harbor. A place where they are uniquely understood and can feel safe.
This novel deals with some really tough subjects, thus the older age recommendation. For those 16 to 18, I would recommend caution. This book would make a great discussion book on how to deal with situations of abuse, reporting, and resources available. Overall, a good read for those with the maturity level to process mature content.
Content Analysis:
Profanity/Language: 3 religious exclamations, 79 mild obscenities, 5 derogatory names, 36 scatological words, 20 anatomical terms, 6 offensive hand gestures, and 2 f-word derivatives.
Violence/Gore: One verbal threat of harm to male genitalia; character relates story of parent being killed by drunk driver; character relates story of being bit by animal; character punches police officer in the stomach; father slaps seventeen year old daughter in the face twice; father punches seventeen-year-old daughter in the head; adult character retells story of father slicing him with a beer bottle when a minor.
Sex/Nudity: Eighteen-year-old kisses seventeen-year-old several times; same characters hug a few times; same characters cuddle (fully clothed) on bed and couch; a few kisses between male homosexuals; adult characters reference having sex; two adult characters reference being bisexual; characters discuss sexual status; seventeen-year-old character caresses eighteen-year-old's scar down chest.
Mature Subject Matter:
Death of a parent, suicide, divorce, mental disorders, child abuse (physical), spouse abuse (emotional), drug addictions, homosexuality, usage of illegal drugs as well as dealing.
Alcohol / Drug Use:
Adult characters drink beer; adult character has hangover; adult characters attend club; adult character is drugged; parent overdoses on meth; parent drinks alcohol; parent sent to prison for dealing drugs.
Reviewed By Beckie