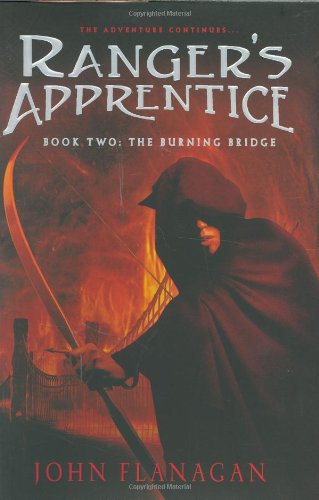 Publisher's Note:
The international bestselling series with over 5 million copies sold in the U.S. alone!

Bracing for a final clash with the evil warlord Morgarath, the Rangers rally the kingdom's allies, and Will is chosen, along with his friend Horace, as special envoys to nearby Celtica. But the simple mission soon takes an unsettling turn – the Celticans have disappeared, their town abandoned. The scheming hand of Morgarath, it seems, has been far from idle. He has found a way to bring his legions over the once impassible eastern mountains and is planning to ambush the king's army in a rout. Now with help many miles away, Will and Horace are the only ones standing in the way of the dark lord's plans.They have shown great skill and courage in their training, but how will they fare in the face of true evil?

Perfect for fans of J.R.R. Tolkien's Lord of the Rings, T.H. White's The Sword in the Stone, Christopher Paolini's Eragon series, and George R. R. Martin's Game of Thrones/A Song of Ice and Fire series.
Ranger's Apprentice Book 2: The Burning Bridge
by John Flanagan
Overall Review:
Integrity, persistence, and determination are creeds that these young people aspire to live by. Like water flowing in a river, they don't just move with the ever present stream of humanity, but are a powerful force who endeavor to change events around them for the better. The Burning Bridge is book two of a thirteen book series in The Ranger's Apprentice saga by John Flanagan. The Burning Bridge stands well on its own yet leaves the reader eager for the next. The author, being a dad, was inspired to write stories for his son. He writes in a way that, although there are many battles between good and evil, is mindful of the age demographic.
Written in a way that would be fun reading for middle grade readers, young adults, and adults, this story is engaging with non-stop action. There is much to be learned from these fascinating characters who are tenacious and adventurous. The main characters, the apprentices, are all around the age of 16. They are each learning their life's skill and what it means to study hard. Persistence and training pay off in the long run as they find themselves in situations that take thought and determination to get through. The ending is suspenseful and the author leaves us eager to pick up the next book.
Content Analysis:
Language/Profanity: 3 religious exclamations; 2 mild obscenities.
Violence/Gore: Weapons used for self-defense, war and training for battle (swords, axes, spears, bows & arrows); creepy bear-like beasts; character killed with sword, no blood mentioned; 4 man-like beasts killed with arrows, scene described but no blood mentioned; previous murders mentioned, no descriptions; detailed description of weapons training, potentially frightening; multiple characters thrown in moat, brief description of foul excrement in moat; creepy deserted cities; teen characters attacked by men, extended description; adult hit on side of head with weapon; evil adult prefers to stab victims in back, brief mention; invading force causes people to flee, some captured; invaders kill group of travelers; bad guys tied up for extended period of time; discussion of hanging men, brief mention; marching prisoners chained together; prisoner dies, whipped and stabbed, 4 page description but no blood; multiple prisoners whipped; man whipped repeatedly and left to die; extended battle with invading army; burning bridge; several adults killed by arrow; two teens abducted; boss repeatedly smacks workers on head; armies forming up on battle field; army defeated, many die; man whipped in face, brief description but blood mentioned; leader has disregard for his people; one paragraph description of military troops attacking each other, mention of physical damage; realization by teen that people die on the battle field; several men attacked and killed, blood mentioned; man stabbed in battle, blood mentioned and description of struggle to live; battle with swords, several page description ending in multiple injuries and death; several men die from arrows.
Sex/Nudity: 2 kisses, non-sexual; 2 men stripped down to their underwear, non-sexual; girl puts her hand in boy's hand for moral support, non-sexual.
Mature Subject Matter:
War, homelessness, death, abduction, slavery, weapons, creepy beasts, leadership ethics.
Alcohol / Drug Use:
None
Reviewed By Beth