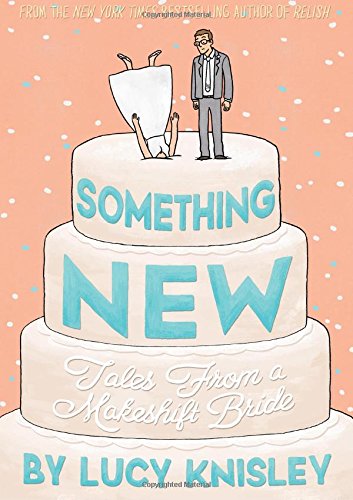 Publisher's Note:
In 2010, Lucy and her long-term boyfriend John broke up. Three long, lonely years later, John returned to New York, walked into Lucy's apartment, and proposed. This is not that story. It is the story of what came after: The Wedding.
DIY maven Lucy Knisley was fascinated by American wedding culture . . . but also sort of horrified by it. So she set out to plan and execute the adorable DIY wedding to end all adorable DIY weddings. And she succeeded. This graphic novel--clocking in at almost 300 pages of humor, despair, and eternal love--is the story of how Lucy built a barn, invented a whole new kind of photo booth, and managed to turn an outdoor wedding on a rainy day into a joyous (though muddy) triumph.
This book was sent to Compass Book Ratings for review by First Second Books
Something New
by Lucy Knisley
Overall Review:
Having planned for my own wedding within the past few years, this book kind of hit home for me. I, too, remember the nights of worrying what might go wrong, and where I would find the time to get everything done. I think I could have used this book previous to that time, actually. Why? Because Lucy Knisley shows, through voice bubbles and beautiful illustrations, how everything works out through good and bad.
I loved the little bits of backstory throughout this book, even though I have pretty much read Lucy's life story through her previous graphic novels. It's always nice to have a book that you can read at leisure, and that doesn't tax your brain. Something New is one of those books.
In this book, the reader gets an unflinching look at how stressful even a relatively small wedding can be. Thankfully, Lucy had plenty of family to keep her sane and on the right track. She does delve into some of the irrational (and completely rational!) fears she held, and how in the end, she was just happy being surrounded by the ones who love her most.
If you have planned a wedding, might plan one in the future, or simply love Knisley's work, then make sure to read this book. Whatever aforementioned situation you are in, you will be glad you did!
Review of Advanced Reading Copy
Content Analysis:
Profanity/Language: 2 derogatory names; 2 scatological words; 2 F-word derivatives.
Violence/Gore: Murder is mentioned; a dead squirrel is mentioned briefly.
Sex/Nudity: A man is referred to as sexy; minors kiss, are also depicted kissing; sexual explorations mentioned; sex education is referred to.
Mature Subject Matter:
Divorce, personal crises.
Alcohol / Drug Use:
Smelling like pot is mentioned; alcohol is consumed.
Reviewed By Lydia