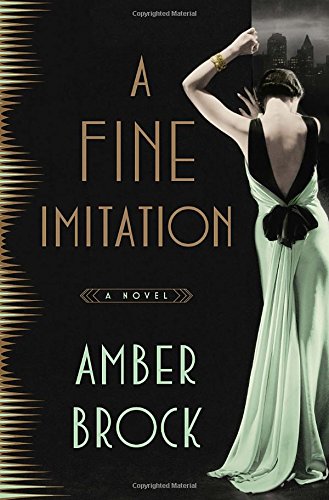 Publisher's Note:
Set in the glamorous 1920s, A Fine Imitation is an intoxicating debut that sweeps readers into a privileged Manhattan socialite's restless life and the affair with a mysterious painter that upends her world, flashing back to her years at Vassar and the friendship that brought her to the brink of ruin.

Vera Bellington has beauty, pedigree, and a penthouse at The Angelus--the most coveted address on Park Avenue. But behind the sparkling social whirl, Vera is living a life of quiet desperation. Her days are an unbroken loop of empty, champagne-soaked socializing, while her nights are silent and cold, spent waiting alone in her cavernous apartment for a husband who seldom comes home.

Then Emil Hallan arrives at The Angelus to paint a mural above its glittering subterranean pool. The handsome French artist moves into the building, shrouds his work in secrecy, and piques Vera's curiosity, especially when the painter keeps dodging questions about his past. Is he the man he claims to be? Even as she finds herself increasingly drawn to Hallan's warmth and passion, Vera can't suppress her suspicions. After all, she has plenty of secrets, too--and some of them involve art forgers like her bold, artistically talented former friend, Bea, who years ago, at Vassar, brought Vera to the brink of catastrophe and social exile.

When the dangerous mysteries of Emil's past are revealed, Vera faces an impossible choice--whether to cling to her familiar world of privilege and propriety or to risk her future with the enigmatic man who has taken her heart. A Fine Imitation explores what happens when we realize that the life we've always led is not the life we want to have.
This book was sent to Compass Book Ratings for review by Crown Publishers
A Fine Imitation: A Novel
by Amber Brock
Overall Review:
I don't consider myself an artist by any means, but the world of fine art calls to me in books. Almost every fiction book that has some sort of art history in it mesmerizes me. I always finish them wanting to read more. A Fine Imitation is by far one of the best adult books I have read this year. It has a little bit of everything-- history, mystery, love, feminism and, you guessed it--Art!
There were some romantic scenarios in this book that made me a little upset. I know that women in the earlier 1900's weren't quite on the feminist bandwagon yet, and that women were supposed to do as their men said, and keep quiet. That is all well and good, until a woman and a man are paired together that don't respect each other. Vera and Arthur Bellington are the main characters in A Fine Imitation, and although Vera started out as a compliant wife, I could just feel her itching to do something a bit scandalous.
Jumping back and forth between Vera's youth at a prestigious school, and her adulthood in New York City, this book quickly introduces the reader to a sneak peek behind the scenes in Mrs. Bellington's life. From secret escapades as a schoolgirl with a best friend, to a love affair with an artist, Vera's story does not disappoint. I found myself mourning the end of this book. You won't want to miss it.
Review of an Advance Reader's Copy
Content Analysis:
Profanity/Language: 3 religious exclamations; 4 mild obscenities.
Violence/Gore: The death of a spouse is mentioned; war is mentioned with some discussion of death and loss; stealing from an employer is mentioned.
Sex/Nudity: A young woman inquires about a scandalous love affair; a woman is mentioned to strip naked in front of a male in prelude to sex; teens are in love and almost kiss; a man touches a woman's waist in a loving way; an unmarried man flirts with a married woman; a married woman kisses her love interest, has sex with him in two brief scenes with nudity and innuendo; a young girl sneaks out with a male model and he poses for her nude; an unmarried couple sleeps together.
Mature Subject Matter:
War, extramarital affairs, stealing, personal crises, forgery.
Alcohol / Drug Use:
A man smokes a cigar; adults drink wine on multiple occasions; a woman is mentioned to fix cocktails.
Reviewed By Lydia