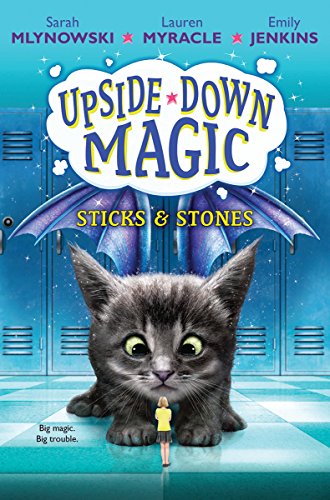 Publisher's Note:
The kids in Upside-Down Magic know their magic is a little out of control. But that doesn't make them weird--it only makes them human.

Strange things are happening at Dunwiddle Magic School-and the Upside-Down Magic class is getting blamed!

Yes, Marigold did shrink Lacey Clench to the size of an insect. But that was an accident. And, yes, most people weren't prepared for Nory to transform into a squippy (that's half squid, half puppy)-but it's not like Nory "meant" to mix up paws and tentacles. And while Bax does have the unfortunate magical condition of turning into a stone, he swears he has nothing to do with the rocky magic that's been happening in Dunwiddle's halls.
When things get messy, it's easy to point your finger at the kids with the messiest magic. But the Upside-Down Magic students aren't going to let themselves get in trouble. Instead, they're going to find out what's really going on-and get their school back on track before something really wacky happens.
This book was sent to Compass Book Ratings for review by Scholastic
Sticks and Stones
by Sarah Mlynowske, Lauren Myracle, Emily Jenkins
Overall Review:
In the second book of the Upside Down Magic series, Stick and Stones, Nory and her friends from the Upside Down Magic class are back again to prove they aren't "wonky", just different. When it comes to magic, theirs is just different, but not everyone can understand that. Lacey, the school bully, is out to prove that the UDM class is not only wonky, but dangerous. When things start mysteriously turning to stone around the school, will Lacey finally have what she needs to back up her claim? Nory and her friends are out to prove her wrong and show they are an asset to the school.
The amazing thing about Sticks and Stones as well as the Upside Down Magic series (there is a third in the works) is the way the serious issue of feeling different, or especially being different compared to what everyone else considers the "norm" is addressed. Nory and her friends aren't the same because of their magic and this makes the serious issues feel a little lighter. The books really are perfect for someone experiencing that or for someone that needs a lesson on showing empathy to someone experiencing it. On one of the final pages of Sticks and Stones is a quote that sums up the lessons taught in this book perfectly, "My point is that the Upside Down Magic program encourages all of us to embrace and understand differences."
As stated, Sticks and Stones is the second book in the series and reading the first book would be very helpful. Find the review for Upside Down Magic #1 here.
Content Analysis:
Profanity/Language: None
Violence/Gore: One person pushes another down; character uses magic to throw flaming tennis balls at a group of people.
Sex/Nudity: Girl and boy hug (2 times).
Mature Subject Matter:
Death of parents; divorce.
Alcohol / Drug Use:
None
Reviewed By Sally