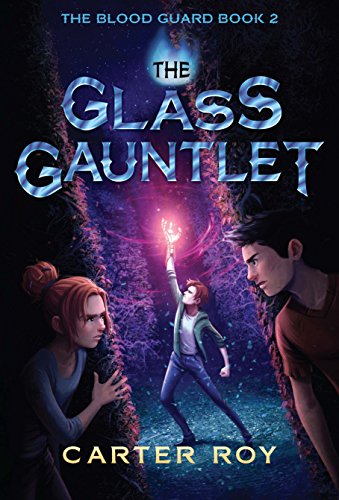 Publisher's Note:
Ronan Truelove barely survived his first encounter with his father and the Bend Sinister. Now, he's determined to become one of the Blood Guard, a sword-wielding secret society sworn to protect thirty-six pure souls crucial to the world's survival.
Eager to prove he's got what it takes, Ronan is sent on his first mission with his friends Greta and Sammy to visit a weird-sounding school and take a series of tests called the Glass Gauntlet. Paper and pencils and nerdy scholarship—where's the life-or-death challenge in that?
But the Glass Gauntlet is actually something much more dangerous: head-to-head competitions against ruthless opponents. Nothing and no one are what they seem. Who can he trust, and who will kill him? Ronan has to figure it out fast because his enemies are multiplying, and soon he will have to pass the ultimate test: facing his father again and standing up to those who threaten not only him and his friends but also the world.
The Glass Gauntlet (The Blood Guard Book 2)
by Carter Roy
Overall Review:
The Glass Gauntlet is book 2 in The Blood Guard series written by Carter Roy. Although it took a few pages for the story to get going, once it took off it was fast-paced and suspenseful, standing on its own with an imaginative story line. The characters are likeable and come alive in the words of this artistic author. The main characters are 13-year-olds, both a boy and a girl, and an impressive 11-year-old techie guy. These three are learning what it means to be loyal and give of themselves to protect others, even when it hurts. Dedication and creativity are a common goal.
The bad guys are characteristically immoral and unethical, and the good guys fight back--yet the author does an excellent job of making the descriptions age appropriate. Magic is used but it's more like an ability that comes from having the job. The Glass Gauntlet was an exciting read with language that would make it enjoyable for a young person or anybody looking for an entertaining story. Hopefully the third story will be as good as the first two.
Content Analysis:
Profanity/Language: None (Note: Hell is used as a location once.)
Violence/Gore: Parent turns evil; father ordered murder of child; multiple weapons used throughout the story: guns (real & imagined), swords, Taser, fire; soul snatched from body, no blood or death; adult is hit in face by object thrown by kid in defense; characters attacked with fire, explosions and electromagnetic pulse; characters struck blind and lose equilibrium, not permanent; character threatened to be chopped to pieces; evil adult character dies from sword wound, very brief description, no blood mentioned; evil threats; older teen wears freaky mask, blood and fangs described, threatens to harm others; older teen known as "biter"; teens climb over dangerous objects, blood and minor wounds briefly mentioned; teens steal a device from another teen; 4 mean animals that attack on command, minor description of blood; adult shot multiple times, tied up, and frozen, bullet holes in body and blood mentioned, non-fatal; characters hide in freezer, shivering from cold mentioned; characters held at gunpoint; multiple characters held in metal cage, descriptive; attack animals left to attack; character cuts off his own hand, lots of screaming from characters but not descriptive of blood or gore; character's hand scurries across floor, mildly creepy but turns comical; evil characters tasered multiple times; characters handcuffed; character hit on head with large gun, brief description, no blood; character stabbed with sword, no blood or gore described; character attacked by 4 animals, brief description with no blood or gore; multiple abductions; child character turns evil and murders adult, brief description; death of child character by scientific mistake; people attacked by charging teen; adult character uses fire to attack teens, heat described but not burns or gore; adult character burned in fire, descriptions of new skin and hair healing fast but not blood or gore; 2 adult characters found murdered but no descriptions of blood or gore.
Sex/Nudity: 2 incidences of adult in boxers, non-sexual.
Mature Subject Matter:
Weapons (real & imaginative), fire, stealing souls, immortal characters, physical regeneration, reincarnation, murder, divorce, family crisis, evil parent, foster care, abduction, confinement in cage, incantations, scientific ethics.
Alcohol / Drug Use:
None
Reviewed By Beth