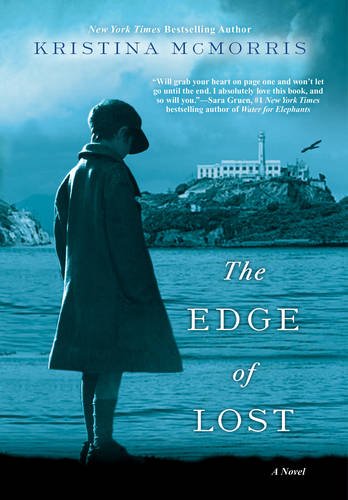 Publisher's Note:
From New York Times bestselling author Kristina McMorris comes an ambitious and heartrending story of immigrants, deception, and second chances.

On a cold night in October 1937, searchlights cut through the darkness around Alcatraz. A prison guard's only daughter--one of the youngest civilians who lives on the island--has gone missing. Tending the warden's greenhouse, convicted bank robber Tommy Capello waits anxiously. Only he knows the truth about the little girl's whereabouts, and that both of their lives depend on the search's outcome.

Almost two decades earlier and thousands of miles away, a young boy named Shanley Keagan ekes out a living as an aspiring vaudevillian in Dublin pubs. Talented and shrewd, Shan dreams of shedding his dingy existence and finding his real father in America. The chance finally comes to cross the Atlantic, but when tragedy strikes, Shan must summon all his ingenuity to forge a new life in a volatile and foreign world.

Skillfully weaving these two stories, Kristina McMorris delivers a compelling novel that moves from Ireland to New York to San Francisco Bay. As her finely crafted characters discover the true nature of loyalty, sacrifice, and betrayal, they are forced to confront the lies we tell--and believe--in order to survive.
This book was sent to Compass Book Ratings for review by Kensington Publishing
The Edge of Lost
by Kristina McMorris
Overall Review:
The Edge of Lost is a heartfelt coming-of-age story. This New York Times bestseller, written by Kristina McMorris, is set during the early twentieth century and follows protagonist Shan through his travels in Ireland, New York City and San Francisco. Interesting and well-researched, McMorris adds lots of plot details specific to the time-period including a New York City mob scene, the Prohibition, speakeasies, and vaudeville. The scenes set in Alcatraz were particularly fascinating.
The only problem with The Edge of Lost is it's not a page-turner. The pacing is all over the place -- extremely slow in some sections, and just as the plot picks up speed, the story stalls again. This inconsistency made it hard to become invested in the book and its characters. Despite its flaws, The Edge of Lost is entertaining historical fiction.
Review of an Advance Reader's Copy
Content Analysis:
Profanity/Language: 22 religious exclamations, 42 mild obscenities, 6 religious profanities, 12 derogatory names, 8 scatological words; 5 anatomical terms.
Violence/Gore: A few implied occurrences of violence involving prison scuffles and scars from beatings; a few secondhand reports of violence including cut-off fingers, domestic violence, child abuse, stabbing a cell mate and violence in a movie; multiple brief scenes of violence involving fistfights, slapping a child, beating someone up, shootings, and an inmate attacking the warden; a few non-detailed scenes of violent death include beating a victim with a baseball bat and a shooting during a bank robbery; a brief scene of blood and gore occurs during a shooting; in a scene of intense violence, two inmates fight in prison.
Sex/Nudity: A few incidents of kissing; a non-sexual depiction of nudity when an inmate is forced to strip down; several sexual references including performances at a burlesque and a low cut dress; several implied incidents of sexual activity, including a child out of wedlock; a mention of a pornographic magazine; a few brief scenes of nudity in a burlesque; a brief scene of sexual activity without explicit details between adults.
Mature Subject Matter:
Death of family members and friends, abandonment, stealing, poverty, homelessness, poker and cheating, speakeasies, child abuse, domestic abuse, prison and prison violence, burlesque shows, mobs and illegal activities.
Alcohol / Drug Use:
Frequent consumption of alcohol; frequent smoking by adults and children; several scenes take place in a speakeasy; men pass out after drinking too much alcohol.
Reviewed By Rachel