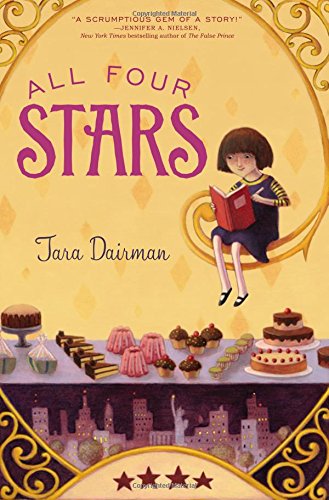 Publisher's Note:
An Amazon Best Book of the Month: July 2014
An Amazon Editors' Pick for Middle Grade Summer Reading

"A scrumptious gem of a story!"—Jennifer A. Nielsen, New York Times bestselling author ofThe False Prince

Meet Gladys Gatsby: New York's toughest restaurant critic. (Just don't tell anyone that she's in sixth grade.)

Gladys Gatsby has been cooking gourmet dishes since the age of seven, only her fast-food-loving parents have no idea! Now she's eleven, and after a crème brûlée accident (just a small fire), Gladys is cut off from the kitchen (and her allowance). She's devastated but soon finds just the right opportunity to pay her parents back when she's mistakenly contacted to write a restaurant review for one of the largest newspapers in the world.

But in order to meet her deadline and keep her dream job, Gladys must cook her way into the heart of her sixth-grade archenemy and sneak into New York City—all while keeping her identity a secret! Easy as pie, right?
All Four Stars
by Tara Dairman
Overall Review:
What's an aspiring 11-year-old chef/food critic to do with parents who believe cooking is done in the microwave and only eat at fast food restaurants? Well, that's exactly Gladys's problem in All Four Stars. This charming novel by Tara Dairman reads like a mash up of Roald Dahl's Matilda and the newspaper restaurant review section, but with Julie Child as the protégé. Gladys knows, and sneaks, her way around the kitchen and produces amazing creations--all of which she keeps hidden from her parents. After an alarming incident with a blow torch and the kitchen curtains, her secret is discovered and poor Gladys is forced to give up her passion. All Four Stars shows what she now does with her forced free time and her road to winning her parents over. Will they ever realize that Gladys in a genius when it comes to cooking and baking, creating masterpieces well beyond her years? Will they realize that food does not have to come in varying shades of brown and that it can be an amazing experience? You will just have to read All Four Stars to find out and to enjoy the fun adventure of Gladys's journey to accomplished food critic along the way.
Content Analysis:
Profanity/Language: None
Violence/Gore: None
Sex/Nudity: None
Mature Subject Matter:
None
Alcohol / Drug Use:
None
Reviewed By Sally