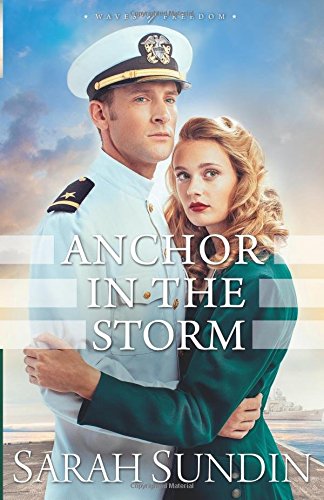 Publisher's Note:
One Plucky Female Pharmacist + One High-Society Naval Officer = Romance--and Danger

For plucky Lillian Avery, America's entry into World War Ii means a chance to prove herself as a pharmacist in Boston. The challenges of her new job energize her. But society boy Ensign Archer Vandenberg's attentions only annoy--even if he is her brother's best friend.

During the darkest days of the war, Arch's destroyer hunts German U-boats in vain as the submarines sink dozens of merchant ships along the East Coast. Still shaken by battles at sea, Arch notices his men also struggle with their nerves--and with drowsiness. Could there be a link to the large prescriptions for sedatives Lillian has filled? The two work together to answer that question, but can Arch ever earn Lillian's trust and affection?

Sarah Sundin brings World War II to life, offering readers an intense experience they won't soon forget.
This book was sent to Compass Book Ratings for review by Revell
Anchor in the Storm
by Sarah Sundin
Overall Review:
Sarah Sundin's Anchor in the Storm is the second book in the Waves of Freedom series. The first book is not essential to understand the plot, but it does provide some backstory and is also an enjoyable read. The series takes place during the early days of World War II and has a lot of interesting historical data. The author has done her research and tries to keep the book true to its time period.
The characters are likeable and feel like real people. They have flaws and challenges just like anyone else. Sundin's writing style really draws the reader into the story and has one cheering or cringing, depending on what is happening. Readers develop a rapport with the protagonists.
The book has a mystery that must be solved and the tension escalates throughout the novel. Readers will be anxious and curious right along with the characters. This is a great mix of romance, history and suspense. Sundin has a style that is quite appealing and strikes a good balance between all of her themes.
Content Analysis:
Profanity/Language: None
Violence/Gore: Several scenes involving naval encounters, sometimes with injury, blood and or death; mention of bodies floating in the water as a result of naval attacks; person speculates that someone could gun her down; report of a man physically attacking a female, but he is stopped before an actual rape occurs; a man punches another in the face; report of a man found stabbed to death; person pulls a gun on someone and binds the person's hands and feet; character recalls blood on his shirt from a stabbing.
Sex/Nudity: Character jokes about having to walk around naked; report of a girl unknowingly kissing a married man; non-married characters kiss and embrace.
Mature Subject Matter:
War, painkiller addictions, murder, adultery, attempted rape, post-traumatic stress disorder, permanent disability.
Alcohol / Drug Use:
Report of drug addicts robbing pharmacies; many mentions of people being addicted to prescription medications and also selling the medications; report of a person dying from drinking alcohol and consuming sedatives; characters order beer.
Reviewed By Susan