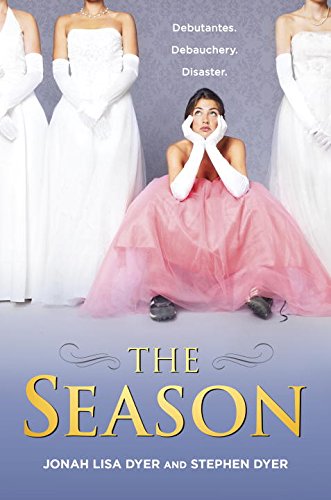 Publisher's Note:
She can score a goal, do sixty box jumps in a row, bench press a hundred and fifty pounds…but can she learn to curtsey?

Megan McKnight is a soccer star with Olympic dreams, a history major, an expert at the three Rs of Texas (readin', ridin', and ropin'), but she's not a girly girl. So when her Southern belle mother secretly enters her as a debutante for the 2016 deb season in their hometown of Dallas, she's furious—and has no idea what she's in for. When Megan's attitude gets her on probation with the mother hen of the debs, she's got a month to prove she can ballroom dance, display impeccable manners, and curtsey like a proper Texas lady or she'll get the boot and disgrace her family. The perk of being a debutante, of course, is going to parties, and it's at one of these lavish affairs where Megan gets swept off her feet by the debonair and down-to-earth Hank Waterhouse. If only she didn't have to contend with a backstabbing blonde and her handsome but surly billionaire boyfriend, Megan thinks, being a deb might not be so bad after all. But that's before she humiliates herself in front of a room full of ten-year-olds, becomes embroiled in a media-frenzy scandal, and gets punched in the face by another girl.

The season has officially begun…but the drama is just getting started.
This book was sent to Compass Book Ratings for review by Viking Books for Young Readers
The Season
by Jonah Lisa Dyer & Stephen Dyer
Overall Review:
Cowboy-up because we're about to visit the Lone Star State, where country meets country club and denim and diamonds go hand in hand. The Season, a YA debut novel from husband and wife screenwriters Jonah Lisa and Stephen Dryer, is a contemporary retelling of Jane Austen's Pride and Prejudice, but don't expect this to be a complete repeat of the beloved tale.
Told in first person format, protagonist Megan reigns on the collegiate soccer field and dreams of the Olympics, but when she's pressured to debut this season as a debutante she can't back down. Not one to go down without a fight, Megan tries to prove she's not a one trick pony. Of course hilarity ensues and preconceived notions are challenged, all while the Texas dynasty is on full display.
Dallas socialites, female soccer, and sexual exploits add sensationalism to the remix, and while our favorite Austen characters may get a few adjustments (name(s), place(s), occupation(s)) their individual traits stay pretty well intact. Reader's even get a few new secondary characters that add yet more fun to the party, and in this case the more the merrier as they contribute to the main characters' development.
Being screenwriters definitely gave the authors' an edge, with their vivid descriptions of backdrop and flippant character interactions. The scenes couldn't help but jump off the page and elicit animated imagery for the reader. Amidst the awkward situations the female finds herself in, the reader can't help but laugh out loud; and for this reviewer, it brought to mind images of a young Amanda Bynes starring in What A Girl Wants and She's The Man.
This is a romantic comedy that may be best suited for an older young adult audience. Debutantes, debauchery, and disaster all spell delight for this chick-lit tale that fans of Sophia Kinsella and Meg Cabot will no doubt gravitate towards.
Review of an Advance Reader's Copy
Content Analysis:
Profanity/Language: 36 religious exclamations; 19 mild obscenities; 1 religious profanity; 12 derogatory names; 12 scatological words; 17 anatomical terms; 1 offensive hand gesture; 7 F-word derivatives. Note: OMG is used once, this is not included in the tally.
Violence/Gore: Injury during sporting event, blood mentioned; report of boyfriend shoving girlfriend, resulting in injury and hospital visit; character is hit in face during sporting event causing injury; character jokes that they were carjacked; report of shooting a reptile for safety; character discusses how they were assaulted by being scratched and bit; character reports being a witness to another character with a gun threatening to shoot law enforcement and then themselves; character threatens to kill another character; character roughly grabs another character as if to punch them; character punches character; extended scene (about ¼ page) fight breaks out between group of people, blood, and broken bones mentioned.
Sex/Nudity: Sexual reference to being a twin; character refers to being part of the debutante season as being in a virgin auction; comment on female's character break up with boyfriend; mention of performing sexual favors (joke); female's underwear becomes visible to male character when dress rips; discovery of a gay pornographic magazine; discovery that male is a homosexual; female character worries her chest is not large enough; joke about character being employed as a dominatrix; character suspects female of formerly being a male; females stand in undergarments to be measured, character compares her body to other character; females in locker room joke of undergarments and cleavage; character laments that their date is not hot because he/she is feeling reckless; joke about sex; characters hold hands few times; female characters attire is revealing; speculation of engagement; female has debacle with undergarments when trying to use the ladies room; extended scene (about ½ page) character is suspected of being a lesbian, joke that female is attracted to another female; female teases that she showers with other females in the locker room; extended scene (about 2 pages) characters exchange flirtatious texts; joke about virginity; extended scene (about ¼ page) character recalls seeing other females kiss, calls to mind friends/associates that are lesbian; sexual innuendo; extended scene (about 1 page) male and female kiss descriptively, male touches female in places normally covered by swimsuit; kiss; extended scene (about ¼ page) female characters discuss the importance of using protection and buying condoms, character admits to almost having sex; extended scene (about 1 page) female examines condoms in store, contemplates sizes and brands; character comments on all the condoms other character bought, discuss flavor and design of condoms; kiss; sexual reference; female admits to shaving bikini area in preparation for sexual activity; male jokes about helping female undress; female compares her body to another female while they are in bikinis; report of sexual activity between unmarried adults (2x); character reveals that as a child their mother had men around the house; extended scene (about 1 page) adult character discuses that an underage character was scantily dressed and offered them sexual favors; kiss on cheek; hug; character describes roommates significant other of practically living at their place (implication of sex); unmarried adults lay in bed together kissing (implication of sex); sexual innuendo; unmarried adults lay naked in bed (implication of sex); extended scene (about 2 page) character reports that as a minor they engaged in sex with an adult, unknown to minor adult filmed their exploits and showed others; mention of statutory rape; kiss on cheek; lesbian character reports coming out to their parents.
Mature Subject Matter:
Domestic abuse, financial debt, marital strain, sexual activity between unmarried adults, homosexuality.
Alcohol / Drug Use:
Adults and minors (about 20 years old) drink alcoholic beverages at parties (mentioned a few times throughout novel); character suspects another character smokes cigarettes and marijuana; adult mixes alcohol with pain medication; cigarettes and cigars are served at party; portrait of woman smoking a cigar; character arrested for illegal drug possession, steroids, suspected of dealing drugs; hookah at party; characters are hungover.
Reviewed By MaryLou