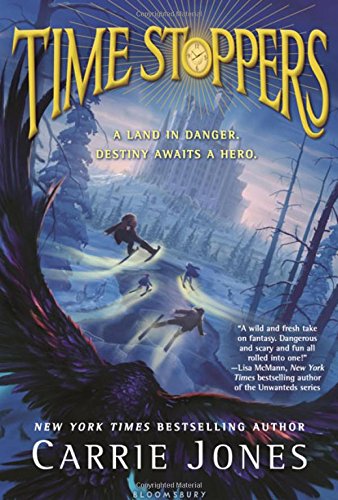 Publisher's Note:
Annie Nobody thought she was, well, nobody, living in a nowhere town where nothing goes her way. Day 1 at her newest foster home proves to be dreadful, too . . . and things get even worse when she's chased by something big and scary that definitely wants to eat her.
Luckily for Annie, not everything is what it seems, and she gets swept up--literally--by a sassy dwarf on a hovercraft snowmobile and taken to Aurora, a hidden, magical town on the coast of Maine. There, she finds a new best friend in Jamie Hephastion Alexander--who thought he was a normal kid (but just might be a troll)--and Annie discovers that she's not exactly who she thought she was, either. She's a Time Stopper, meant to protect the enchanted.
Together, Annie and Jamie discover a whole new world of magic, power, and an incredible cast of creatures and characters. But where there's great power, there are also those who want to misuse it, and Aurora is under siege. It's up to the kids to protect their new home, even if it means diving headfirst into magical danger.
Awards for Need
An Indiebound Next Pick
A YALSA BBYA Nominee
This book was sent to Compass Book Ratings for review by Bloomsbury USA
Time Stoppers
by Carrie Jones
Overall Review:
Annie Nobody has been shuffled from one awful foster home to another. Jamie Alexander has lived a life of abuse and neglect. Neither ever expected that once they found a real home they'd have to risk everything to protect it.
Time Stoppers by Carrie Jones is an imaginative blend of action and fantasy. Jones provides a wonderfully unique setting for our story--juxtaposing a world of magic and fairy tale creatures on top of our very own. The main characters, Annie and Jamie, complement each other perfectly. Each quiet and unassuming, yet possessing innate inner strengths that are exactly what they need to not only lift each other but, together, make them a powerful team. Add in a supporting cast of eccentric fey creatures and you have a recipe for a fun group of characters that any reader can find themselves in.
Time Stoppers is an exciting read from start to finish that leaves the reader wanting nothing but more.
Content Analysis:
Profanity/Language: None
Violence/Gore: Reference to a bar fight; references to houses catching fire; many references to and instances of physical/verbal abuse; a woman pokes a girl; reference to dog being sat on; woman pinches girl; boy's mother referred to as dead; character transforms into a monster; characters watch dog fighting of TV; character worries boy will kick dogs; woman threatens to paddle girl; character gets a splinter; news reference to chicken massacre; woman threatens to eat boy many times; character runs into door; story about fairies switching babies; reference to an illustration of a child being eaten; character hits her head against door; animals get in a fight; mythical creatures chase girl; mysterious force destroys trailer; character throws knife at children; character wonders if she's been drugged; character yanked into shop; reference to man shooting small animals; character joking tells another boy that woman will turn him into scissors; character warns of potential fatal magic risks; character wishes to harm a school subject; reference to several historical purges of magical creatures; character's life threatened if he should turn into a troll; character wishes to kill a troll for a "trophy"; character takes voices magically; character "battle happy"; reference to poison potions; character falls, cuts cheek; character and dog thrown off snowmobile; monster attacks town, chases children; monster freezes people; character passes out several times; character vows to slay monster; reference to a man being eaten by demons; character pricks finger; character bites finger; characters collide, knocking girl unconscious; character falls in snow; children do battle with mythical creatures; animals attack troll; girl threatens boy; girl uses magic on boy; character states mythical creatures will eat them.
Sex/Nudity: Several instances of friends hugging, both genders (non-sexual); many instances of boy and girl holding hands (for comfort/friendship or excitement); a few instances of an older woman hugging/kissing children affectionately; Girl joking references her dad's "man-crush"; boy and girl link arms; man blows friendly kiss to girl.
Mature Subject Matter:
Abuse, foster care, magic, death, good vs evil, magical war, sacrifice.
Alcohol / Drug Use:
Reference to an adult in a bar fight.
Reviewed By Amberle