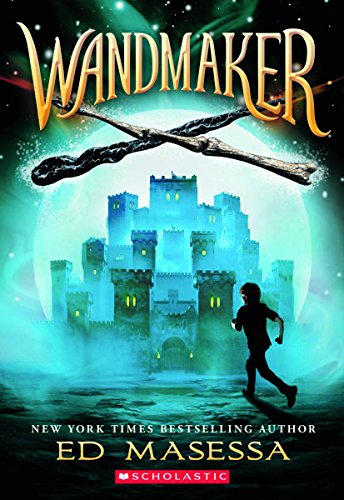 Publisher's Note:
Magic is real -- and it runs in the family -- in this charming fantasy adventure about a boy who must balance his magical education with the demands of big-brotherhood, perfect for fans of Jenny Nimmo and Angie Sage.

Henry Leach the Eighth doesn't know it yet, but he's descended from a long line of wandmakers. That means he has inherited mysterious powers, a trunk full of strange artifacts... and a whole host of problems.

His biggest problem at the moment, however, is his little sister, Brianna. She's always had a special talent for getting in his way. And she takes troublemaking to new heights when she's caught in the crossfire of Henry's first major spell!

Heartfelt, funny, and imaginative, Wandmaker is sure to leave young readers spellbound.
This book was sent to Compass Book Ratings for review by Scholastic Press (A Scholastic Imprint)
Wandmaker
by Ed Masessa
Overall Review:
Looking for a new magical world in which to get lost this summer? Wandmaker by Ed Masessa might just be the new magical series in which to immerse yourself. Henry, the main character, might appear to be your average middle schooler on the outside, but on the inside he knows magic is real, just waiting to be tapped into. He also happens to be the 7th son of a 7th son, which makes his magic extra special--that is if he ever learns how to use it. Wandmaker is a typical magical world where good and evil are preparing to face off in a major confrontation; however, this cast of characters is unique and the challenges thrown at each are imaginative, captivating, and take the reader on a journey around the world. Unique also to this novel is the fact that Henry has his sister as a sidekick, which adds an interesting element to the storyline and shows the importance of family on the journey to becoming who one is meant to be. All in all, Wandmaker is a very satisfactory novel, that will hopefully be continued as it ends with a lot of suspense.
Content Analysis:
Profanity/Language: One religious exclamation.
Violence/Gore: Brief secondhand account of a city being destroyed and thousands dying at the hands of an evil wizard; character bullied and has rotten fruit thrown at him; secondhand account of evil magician sending plagues to a group of people that included poisonous frogs, slaughtered livestock and making them go mentally mad; story told of a monster that eats people; character pinches another hard enough to make him scream; character peels away a map that has been magically adhered to the person's skin, causing him much pain; with a magical force, an evil magician breaks a character's legs, drags him into another room and inflicts more pain that causes the man to scream, no details are given but it mentions that it lasted for hours and resulted in an unmerciful end; character threatens to crush the life out of someone; character attacked by oversized squirrels (3 pages); character bound and gagged; brief mention of someone having taken his own life; mention of battle between good and evil magicians that resulted in 12 deaths; secondhand account of evil magician having killed his followers; character injured in a magical blast; character left to die in a cave by another; character adds his magical effort to an 'attack' in order to help a certain group win but the exertion results in his death.
Sex/Nudity: 2 accounts of boy and girl holding hands; boy wraps his arms around a girl while they ride a horse; mention of a man being naked as he transforms from his animal form; boy and girl hug.
Mature Subject Matter:
Death, good vs evil, suicide, torture.
Alcohol / Drug Use:
Plan told of someone using herbs to poison someone.
Reviewed By Sally