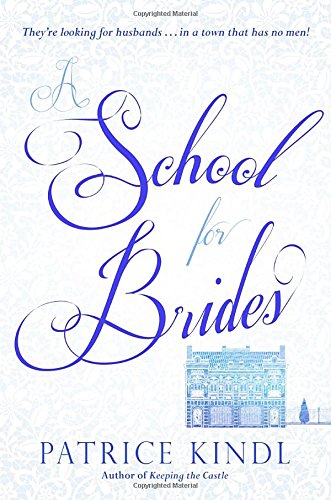 Publisher's Note:
The Winthrop Hopkins Female Academy of Lesser Hoo, Yorkshire, has one goal: to train its students in the feminine arts with an eye toward getting them married off. This year, there are five girls of marriageable age. There's only one problem: the school is in the middle of nowhere, and there are no men. Set in the same English town as Keeping the Castle, and featuring a few of the same characters, here's the kind of witty tribute to the classic Regency novel that could only come from the pen of Patrice Kindl!
A School For Brides
by Patrice Kindl
Overall Review:
Author Patrice Kindl once again takes the reader back to the sleepy backwater village Lesser Hoo, Yorkshire for a comical romance centered around a finishing school for girls. In her latest novel, A School for Brides, several young women are being "finished" in order to find husbands, but the problem is there are no eligible men in the area. What is a girl of marriageable age to do? Luckily, fate steps in, men abound as well as comedy, mystery and drama. From wicked, soon-to-be step mothers, to mystery men, thieves, and a missing ruby necklace, A School for Brides keeps one turning the page to see what will happen next and who will end up engaged.
A School for Brides is listed as the second book in this series by Kindl and while having read the first, Keeping the Castle, adds some understanding to a few of the minor characters' backstories, it is not necessary to enjoy this novel. If you are looking for a quick, fun read that takes you back to the Regency Era, reminiscent of Jane Austen, A School for Brides will certainly fit the bill and entertain you for a few hours.
Content Analysis:
Profanity/Language: None
Violence/Gore: Account of Greek myth told where an ogre would either stretch humans to make them taller or chop off limbs to make them shorter; secondhand account of someone having killed another over cards; secondhand account of someone having killed someone in a duel; secondhand account of someone having shot a coachman; character kicks another in the shin in anger.
Sex/Nudity: Arm held while escorting from room to room (formal).
Mature Subject Matter:
Death of parents.
Alcohol / Drug Use:
Mention of a girl's father being a gin distiller; liquid opium used to drug an animal.
Reviewed By Sally