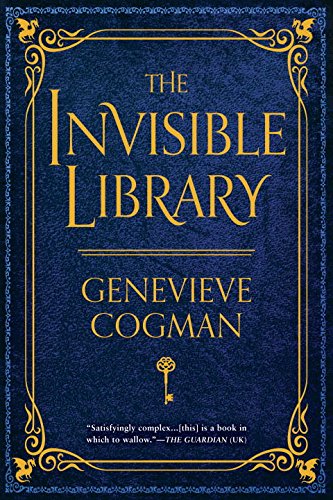 Publisher's Note:
Collecting books can be a dangerous prospect in this fun, time-traveling, fantasy adventure from a spectacular debut author.

One thing any Librarian will tell you: the truth is much stranger than fiction...

Irene is a professional spy for the mysterious Library, a shadowy organization that collects important works of fiction from all of the different realities. Most recently, she and her enigmatic assistant Kai have been sent to an alternative London. Their mission: Retrieve a particularly dangerous book. The problem: By the time they arrive, it's already been stolen.
London's underground factions are prepared to fight to the death to find the tome before Irene and Kai do, a problem compounded by the fact that this world is chaos-infested—the laws of nature bent to allow supernatural creatures and unpredictable magic to run rampant. To make matters worse, Kai is hiding something—secrets that could be just as volatile as the chaos-filled world itself.
Now Irene is caught in a puzzling web of deadly danger, conflicting clues, and sinister secret societies. And failure is not an option—because it isn't just Irene's reputation at stake, it's the nature of reality itself...
This book was sent to Compass Book Ratings for review by Roc
The Invisible Library
by Genevieve Cogman
Overall Review:
The Invisible Library has it all--wit, snappy dialogue, plot, characters, charm, personality, originality, action, and style. Besides having grit, Irene is a heroine who entertains the reader with her droll inner dialogues, asides, and observations. She is supported by a fabulous cast of characters and opposed by a deeply terrifying villain. Additionally, Ms. Cogman invests in some sophisticated world and concept building--all while indulging in some serious library love and devotion.
Although it is categorized as science fiction/fantasy, in some ways, The Invisible Library is difficult to pigeonhole because in addition to elements of science fiction, it also contains strong elements of mystery, espionage/adventure, steampunk, and magic. This gives the novel a wide audience and although not targeting the young adult market, The Invisible Library is certainly a book that teenagers could reach up to and fall in love with. Lovers of To Say Nothing of the Dog and the Etiquette & Espionage Series will likewise be charmed by The Invisible Library. One of the most enjoyable reads this reviewer has had this year! Thankfully, another installment in the series is due out this fall and there is plenty of more material to develop. Besides, who wouldn't want to spend more time with this librarian?
Review of an electronic Advance Reader Copy
Content Analysis:
Profanity/Language: 1 religious exclamation; 20 mild obscenities; 2 derogatory names; 1 scatological word; 2 anatomical terms.
Violence/Gore: Attack by magical objects/creatures; prospectus reads kidnappers will be "torn o bloody rags"; report of a fall that results in broken neck; brief report of death of a vampire by stake in heart, cutting off of head, and impalement of head on front door; bloodstains are seen at scene of murder; attack by mechanical creature; would-be thief knocked unconscious with object; characters find another character's skin (somewhat gruesome); references to vampire habits; extended scene in which creatures attack humans resulting in fighting with swords, magic, injuries, blood, bodies and blood all over the floor, a leg bit off with spraying blood (no extended descriptions); attempt to kill characters by drowning; characters pursued; character hopes another character's nose is bit off; character is poisoned/drugged; hand-to-hand combat with mythical creature; objects are animated by magic and attack mythical creatures; exchange of gunshots with injury and implied death; stated that someone sends parts of internal organs in neatly wrapped parcels; threat at knifepoint, drawing blood; extended confrontation involving shooting, knocking unconscious, magic, blood dripping, description of cuts resulting in flaps of skin, bone; fairy tale read, with typical fairy tale violence.
Sex/Nudity: General reference to "Victorian pornography"; character reflects that she would never use someone as sexual bait; character notices another character's attractiveness and thinks about kissing them; character invites another to have sex (discussion in general terms); a character is a retired "lady of pleasure"; a few instances of innuendo; Fae use powers to try and seduce other characters (general).
Mature Subject Matter:
Theft, politics, murder, death.
Alcohol / Drug Use:
Reference to stimulant abuse; character pretends another is drunk to hide their injury; characters drink; character drugged/poisoned.
Reviewed By Cindy