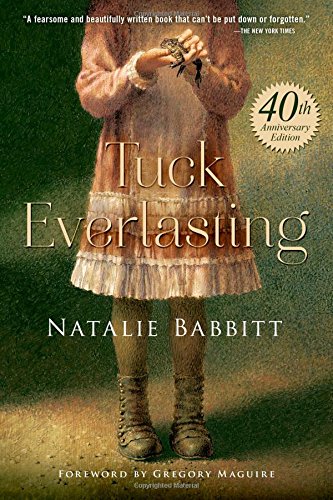 Publisher's Note:
Blessed with?or doomed to?eternal life after drinking from a magic spring, the Tuck family wanders about trying to live as inconspicuously and comfortably as they can. When ten-year-old Winnie Foster stumbles on their secret, the Tucks take her home and explain why living forever at one age is less of a blessing than it might seem. Complications arise when Winnie is followed by a stranger who wants to market the spring water for a fortune.
A brand-new introduction from Gregory Maguire, the author of Wicked, and additional bonus materials make this special edition of Natalie Babbitt's Tuck Everlasting a must-have for lovers of the book and a great way to introduce a new generation to a classic.
Tuck Everlasting
by Natalie Babbitt
Overall Review:
Every once in a while you come across a book you know will be a classic. Tuck Everlasting is just such a book. Natalie Babbitt has put together an excellent story delving into the depths of what it means to grow up, grow old, and die. Through the eyes of an eleven-year-old, headstrong girl, named Winnie we see what the world might look like if one was given the choice to live forever.
Ms. Babbitt has not only devised an excellent storyline, but her descriptions of the characters and locations had me right there with the characters. The woods as Winnie ran through them immediately came to life. I could feel the hot August air and hear the tinkling of a music box mixed in with sounds from the pond and the toad that just won't leave the road.
This is a refreshingly simple story. Told with easy to understand language, vivid imagery and characters that you won't soon forget, it is a must read for every child as they grow and every adult who has forgotten how to view the world through the eyes of an eleven-year-old.
Content Analysis:
Profanity/Language: 2 religious exclamations.
Violence/Gore: 3 secondhand accounts of accidents (fall from tree, self-inflicted gun-shot); 2 instances of implied violence (character wields a shot gun as a club); mention of gallows; 1 frightening scene of a fight between characters; 1 non-graphic instance where adult character kills another adult character, although not intentionally.
Sex/Nudity: 2 instances of hand-holding; 1 kiss on the cheek.
Mature Subject Matter:
Death, theft, kidnapping, immortality.
Alcohol / Drug Use:
Teenage character is described as being a one-time saloon-keeper, adult smokes a cigar.
Reviewed By Beckie