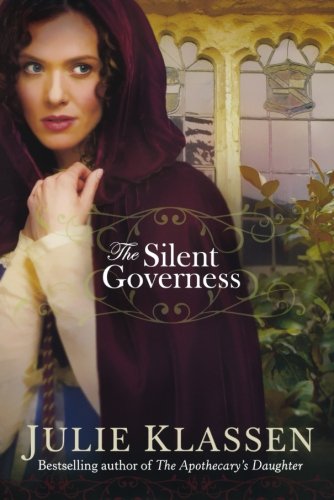 Publisher's Note:
Believing herself guilty of a crime, Olivia Keene flees her home, eventually stumbling upon a grand estate where an elaborate celebration is in progress. But all is not as joyous as it seems. Lord Bradley has just learned a terrible secret, which, if exposed, will change his life forever. When he glimpses a figure on the grounds, he fears a spy or thief has overheard his devastating news. He is stunned to discover the intruder is a scrap of a woman with her throat badly injured. Fearing she will spread his secret, he gives the girl a post and confines her to his estate. As Olivia and Lord Bradley's secrets catch up with them, will their hidden pasts ruin their hope of finding love?
The Silent Governess
by Julie Klassen
Overall Review:
Julie Klassen has done it again. She has put together a simply delightful tale. The Silent Governess is her third novel and hopefully not her last. Klassen writes with such an ease of language that the pages fly through your fingers as you read. The character dialogue is realistic and period appropriate, as this book is set in England during the nineteenth century. She masterfully weaves the social intricacies of that time period throughout and stays true to the societal norms that existed during the period. The feelings and thoughts of the characters and how they fit into society and their defined worth add an interesting undertone throughout the story.
What makes The Silent Governess great is that while a romance novel it also weaves mystery and intrigue throughout the plot line. The characters uncover bits and pieces of a huge, masterful puzzle as you make your way through the chapters. You'll fall in love with Olivia, Edward, and a host of other characters as you read. And just as you think you have the bad guy figured out, the plot will take a turn and leave you breathless with surprise. Throughout the concepts of forgiveness, charity, and understanding of one's true worth are highlighted.
If this book isn't in your to be read pile, make sure it arrives there soon!
Content Analysis:
Profanity/Language: None
Violence/Gore: Report of character hitting character with a sled; character hits character over head with fire iron; character attempts choking another, twice; character catch hand in animal trap; character shoots rabid animal (no graphic depictions).
Sex/Nudity: A few incidences of holding hands; multiple instances of kisses on hands or lips (no graphic detail); character caresses another adult character with hands up and down arms; implied rape.
Mature Subject Matter:
Unplanned pregnancy, lying, physical abuse (adult to adult), gambling, death of family member, rape, extortion.
Alcohol / Drug Use:
Adult character smokes cigar (2); adult character is alcoholic.
Reviewed By Beckie