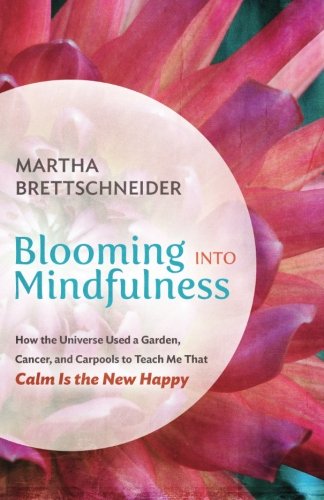 Publisher's Note:
In a world that pushes us to always look for the next best thing, BLOOMING INTO MINDFULNESS shows you how to break the cycle of discontent and take control of your own happiness. Narrated with humor and raw honesty, Martha Brettschneider shares her transformation from ego-centered screaming mommy to a meditation-touting creative, finally at peace with the world. Inspirational, motivational, and sprinkled with practical tips to silence our internal bully (the first step: recognizing that not all of our thoughts are to be trusted!), BLOOMING INTO MINDFULNESS is a must-read for anyone in search of an extra dose of internal peace. If you're looking for strategies to reduce suffering in yourself and others, boost positive energy in your life, and not only unveil but also embrace your purpose, this book is for you.
This book was sent to Compass Book Ratings for review by Cadence Group
Blooming into Mindfulness: How the Universe Used a Garden, Cancer, and Carpools to Teach Me that Calm Is the New Happy
by Martha Brettschneider
Overall Review:
Despite the fact that this book doesn't look perfect, the message it contains is very on point. Upon reading this book, I did notice a couple of things that could be changed to make the layout more appealing to a reader, but looking beyond that, to the deeper, more meaningful parts, I saw only good things.
Blooming Into Mindfulness is a book that I think will be welcomed by many readers, young and old alike. The idea of mindfulness and not going through your day all wrapped up in things you just can't control, is something I didn't really think about a few years ago. Mindfulness seems to be a good way to combat those feelings of stress and too much going on, and it's something most people are very capable of doing.
Mrs. Brettschneider really put herself out there in this book, which I think is quite powerful. It can be scary to share such real and intimate details about the way you live and cope with tragedies and everyday occurrences. I found myself bookmarking pages as I read, because Martha has so many great metaphors and suggestions. I appreciated how she was humble about her beliefs and spirituality, not pushing her thoughts, but just laying them out there for the reader to ponder.
If you are looking for answers to how to be more peaceful and mindful, this book won't necessarily "cure" you. However, it will help you get on the track to where you want to be. This book is something everyone should put on their to-read list.
Review of Advanced Reader's Copy
Content Analysis:
Profanity/Language: 1 religious exclamation; 1 mild obscenity; 4 scatological words; 2 anatomical terms; 2 F-Word derivatives.
Violence/Gore: A man is said to take his own life; terrorist attacks are mentioned with some mention of acts.
Sex/Nudity: A woman is working outdoors and mentions her underwear showing; a woman undergoes breast enhancement after breast cancer, some jokes are made about women's body parts; a married couple kisses twice.
Mature Subject Matter:
Terrorism, divorce, cancer, mental illness, suicide.
Alcohol / Drug Use:
Adults drink wine.
Reviewed By Lydia