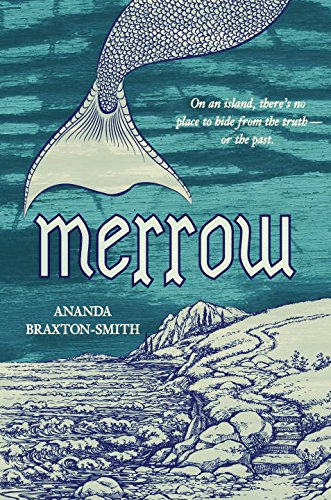 Publisher's Note:
In this breathless and beautifully crafted tale, twelve-year-old Neen Marrey must separate town gossip from town lore to learn the truth about her mother—and herself.

The people of Carrick Island have been whispering behind Neen's back ever since her father drowned and her mother disappeared. The townspeople say her mother was a merrow and has returned to the ocean. Neen, caught in her hazy new in-between self—not a child, but not quite grown up—can't help but wonder if the villagers are right. But if her mother was a merrow, then what does that make Neen?
This book was sent to Compass Book Ratings for review by Candlewick Press
Merrow
by Ananda Braxton-Smith
Overall Review:
Merrow could be described as a coming-of-age story, as Neen attempts to find her place in the world and get some answers about her history. The reader will find themselves more than a third into the book when they realize that "nothing has happened" yet. That is because this isn't so much a book about events, but a book about stories and the power they have in our lives to help define us. The novel invests heavily in descriptive passages to draw the reader to the wind-swept coast of Ireland at the point of history where the people were leaving behind the pagan gods for Christianity. The author's use of old terminology and dialect will require a little patience, but it further perfects the setting's atmosphere. This isn't your typical young adult fiction, but that isn't a bad thing. And yes, merrows are what we commonly think of as mermaids. Discovering whether they exist or not is part of Neen's quest in this book.
Review of an electronic Advance Reader's Copy
Content Analysis:
Profanity/Language: 2 scatological words. Note: Reference to hell as a location not tallied.
Violence/Gore: Report of a parent drowning at sea; untrue gossip saying a woman was run over by husband and plowshares; story told (as if true) of a changeling that the mother let starve; character scratches so hard she draws blood; story about ancestor being killed by own rabbit trap; character cuts feet on sharp ground and leave bloody trail; brief description of rabbit and fowl (caught for food) dripping blood; character receives severe injuries in accident--bruised, scraped, sliced, nibbled fingers & toes--about a paragraph; wild rumors of headless infants, mothers eating babies, roasting rats; report of death of parent; characters throw item deliberately and hit another in the head; report of character walking into water and it is wondered if death was an accident or purposeful; good-natured slapping; character sees pit of beast bones; on 2 separate occasions skeletons are examined with brief description; reference to skinned rabbits; character's hand is cut with knife and blood dripped in a bowl.
Sex/Nudity: Naked character washed to shore (non-sexual, no description); mention of wild rumors of "doubly sexed individuals"; innuendo; character said to squash chest upward to create a bosom; characters hold hands; some romantic feelings develop between characters.
Mature Subject Matter:
Pagan gods, superstition, death of a parent, abandonment, religion, gossip.
Alcohol / Drug Use:
People gossip about someone being a drinker/drunk and drowning in whiskey vat (untrue story); reference to people drinking; characters drink grog; adult character(s) drink to excess at times; reference to pub.
Reviewed By Cindy