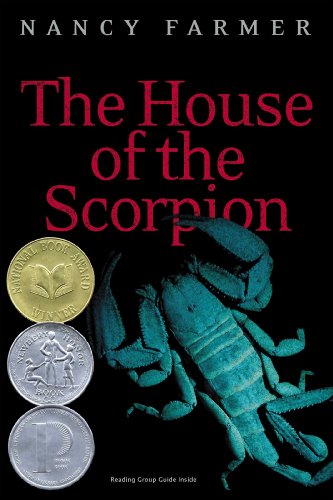 Publisher's Note:
Series: National Book Award Winner for Young People's Literature, Newbery Honor Book, Printz Honor Book

Matteo Alacrán was not born; he was harvested.
His DNA came from El Patrón, lord of a country called Opium--a strip of poppy fields lying between the United States and what was once called Mexico. Matt's first cell split and divided inside a petri dish. Then he was placed in the womb of a cow, where he continued the miraculous journey from embryo to fetus to baby. He is a boy now, but most consider him a monster--except for El Patrón. El Patrón loves Matt as he loves himself, because Matt is himself.

As Matt struggles to understand his existence, he is threatened by a sinister cast of characters, including El Patrón's power-hungry family, and he is surrounded by a dangerous army of bodyguards. Escape is the only chance Matt has to survive. But escape from the Alacrán Estate is no guarantee of freedom, because Matt is marked by his difference in ways he doesn't even suspect.
The House of Scorpion
by Nancy Farmer
Overall Review:
The House of Scorpion by Nancy Farmer deals with some pretty heavy topics. The turbulence and discrimination dealt to the main character throughout his 14 years is disturbing, yet, he has a few bright spots in his life that kept me coming back for more.
The author does a great job developing the characters and making us feel passionate about them. We either end up loving or hating them. The first part of the book was challenging to get through because of the way Matt is treated, but his life does improve and the book gets easier to pick up. By the end, we are cheering for his success and hoping for his ability to lead. Although the road Matt is forced to take is heartbreaking, for a mature audience, this book would open their eyes to several tough subjects including cloning, drugs, and treatment of people, no matter how different they are. Farmer wrote this book in 2002 and in 2013 wrote a sequel, The Lord of Opium.
Content Analysis:
Profanity/Language: 5 religious exclamations; 2 mild obscenities; 1 offensive hand gesture.
Violence/Gore: A character is kept locked up like an animal for about 6 months; a rotten orange, full of worms, is thrown and hits a boy; a dog is found unharmed in the toilet; 2 verbal threats by a maid threatening to kill a boy; 2nd hand reports of a terrorist bombing; scary stories of ghosts; clones used for their organs; a woman scratches a man severely on the face; a character is shot with a toy gun leaving marks; a boy grabbed by the hair twice; frogs are nailed to the lawn; a maid is turned into a zombie; a boy dreams of locking up 2 mean people; a dog is kidnaped; a dog ends up dying of poison; a man tells stories of his youth and how smashing heads was fun; runaways are turned into zombies; stories of zombies being buried; an adult beats a boy with a stick until unconscious; kids witness a clone tied to a table and are told his organs will be harvested; 2 boys are thrown into a pit and left to die; a boy freaked out by bats; a boy suffers several cracked ribs; a man poisons and kills his family; a man committed suicide.
Sex/Nudity: An adult strips off a young character's clothing and scrubs him in the bath - non-sexual; one character forces a girl to kiss him on the cheek in front of many people.
Mature Subject Matter:
Cloning, slavery, extreme mistreatment of laborers/people, dictatorship/mafia, illegal drugs and drug-dealing, organ harvesting, murder of family members, suicide, scientific ethics.
Alcohol / Drug Use:
Illegal drug dealing and use throughout.
Reviewed By Beth