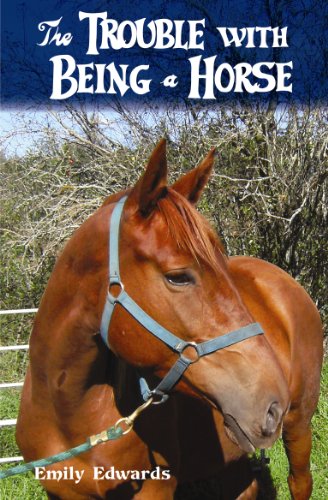 Publisher's Note:
The main character, Olivia, is an eleven-year-old girl who loves horses and finds her greatest happiness with them. The rest of her life is not so great: her family mostly ignores her and don't really understand her, and she's a bit of a social outcast. She feels unhappy a lot of the time, as many young girls can feel, and in a low moment of unhappiness she unwittingly wishes to become a horse, as she thinks this will solve a lot of her problems. Olivia is shocked, to say the least, when she is actually turned into a horse. Thrust into the unprecedented situation of being a girl in a horse's body, Olivia is unsure of what to do. She feels strongly that she should keep her unusual state a secret, and joins a group of wild ponies, but is forced to seek help after sustaining a bear attack. Luckily, she winds up at a good stable, and meets Jenny, the daughter of the man who runs the centre, and together they form an unbeatable team in the show ring. But when Olivia can't resist showing off how much she knows, she puts her secret and friendship with Jenny in jeopardy. Olivia must decide whether she wants to remain as a horse or return to her life as an ordinary girl, and in the process is taken on a journey of self-discovery
This book was sent to Compass Book Ratings for review by Cadence Group
The Trouble With Being A Horse
by Emily Edwards
Overall Review:
The Trouble With Being a Horse is a cute story, especially for young readers who love horses and anything to do with them. Olivia loves horses and being with them, but feels out of place everywhere else. She wishes to be a horse to escape her troubles, and is shocked to wake up and find her wish granted. The main character Olivia's feelings of not belonging, being misunderstood by her family, and uncertainties with friends will certainly strike a chord with girls at the preteen age. Edwards' story flows along a fairly familiar path, hearkening back to the classic tale of Black Beauty with it's exploration of good masters, bad masters, and even a barn fire--though the horse having a human viewpoint adds a new flavor. The tale is told mainly through the eyes of Olivia but it does switch to other characters at points, and the jumps between are a little confusing. Also the issues of the missing girl Olivia, and then the subsequent missing horse "Princess" are a bit glossed over, but that may be appropriate for the target age group. Overall, a pleasant and light read.
Content Analysis:
The Trouble With Being a Horse was a clean read. The instances of violence involved one character being wounded by an uncontrollable horse, and the aforementioned barn fire in which a character was unconscious and taken in an ambulance, though with little injury. There was little detail of injuries and the focus continued to be on the story.
The instances of profanity were solely the taking of the Lord's name in vain, which happened several times.
There was no sexual content whatesoever, and mature theme of the drama of a missing child were so glossed over that it was nonexistent.
Mature Subject Matter:
***
Alcohol / Drug Use:
***
Reviewed By Kristen