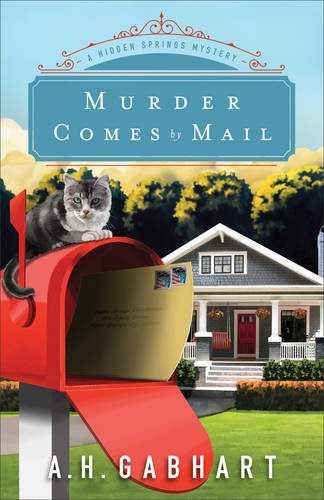 Publisher's Note:
A Cozy Mystery Complete with a Small Town Full of Charming, Quirky Characters

Deputy Sheriff Michael Keane doesn't particularly enjoy being touted as the hero of Hidden Springs after pulling a suicidal man back from the edge of the Eagle River bridge in front of dozens of witnesses--a few of whom caught the breathtaking moments with their cameras. But the media hype doesn't last long as a new story pushes its way into the public consciousness of Hidden Springs' concerned citizens.

Photos of a dead girl arrive in the mail, and Michael becomes convinced she was murdered by the man he saved. With a killer one step ahead, things in Hidden Springs begin to unravel. Now Michael must protect the people he loves--because the killer could be targeting one of them next.

Readers will love racing along with Deputy Sheriff Keane as the clock ticks in this page-turning mystery.
This book was sent to Compass Book Ratings for review by Revell
Murder Comes By Mail
by A. H. Gabhart
Overall Review:
Murder Comes by Mail is the second book in The Hidden Springs Mysteries by A. H. Gabhart. The first book is not essential to read first, but it does explain some of the characters and their backgrounds in greater detail. This book also references the events of the previous novel.
The characters in the story are fun and eclectic, as readers might expect from a small town series. Some of their antics are laughable and endearing. Gabhart has a style of writing that accentuates the attributes of her characters. It makes the reader feel as though she is a part of the town.
There is an odd pacing in this story. It reads like a slow-paced, small town and then suddenly the author decides to resolve the plot and sprint to the end. Readers may find the ending a bit too abrupt. Don't misunderstand, the mysteries are resolved and it is fairly clear why they happened, but as soon as one discovers this, you get about one more page of story and you are done.
Readers hoping to avoid super sappy love stories will find this appealing. There is a small element of romance, but it is not even close to central to the plot. In fact, it is so understated that readers might find themselves hoping for a bit more. The actual mystery drops many clues and even when one thinks she knows who might be behind everything, the whys are still unclear. Look forward to a dose of small town living, hints of danger, lots of mystery, and a light sprinkle of romance.
Review of an Advance Reader Copy
Content Analysis:
Profanity/Language: None
Violence/Gore: Character is contemplating jumping off a bridge, several other bridge jumpings are referenced; character supposes another might want to punch someone; multiple bodies in varying states of decay are found, most have gunshot wounds, these murders are referenced frequently throughout the book; photos of dead people are seen and include mention of a blood trickle; report of an adult threatening to shoot a dog; report of a child being bit by a dog and wanting to kick the animal to fend off more bites; report of a person being shot and killed in battle; person tied up and threatened with a gun-this includes a two page scuffle and shots are fired, no injuries mentioned; report of a child watching his father execute his mother with a gun and the child later shooting his father.
Sex/Nudity: Speculation that a woman would be just as relaxed in the buff; reference to a character showing cleavage; speculation that a person could be a child molester; a character references the act of making babies; non-married characters kiss and embrace.
Mature Subject Matter:
Suicide, murder.
Alcohol / Drug Use:
Adults are said to have drunk; report of a doped-up teen; adult took comfort in a bottle.
Reviewed By Susan