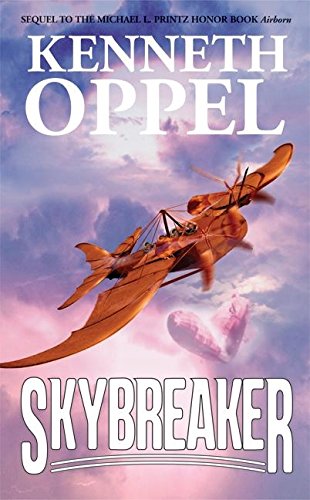 Publisher's Note:
A legendary ghost ship. An incredible treasure. A death-defying adventure.
Forty years ago, the airship Hyperion vanished with untold riches in its hold. Now, accompanied by heiress Kate de Vries and a mysterious gypsy, Matt Cruse is determined to recover the ship and its treasures. But 20,000 feet above the Earth's surface, pursued by those who have hunted the Hyperionsince its disappearance, and surrounded by deadly high-altitude life forms, Matt and his companions soon find themselves fighting not only for the Hyperion—but for their very lives.
Skybreaker
by Kenneth Oppel
Overall Review:
Skybreaker by Kenneth Oppel is an adventure story set afloat in air ships like the Zeppelins of the early 20th century yet capable of so much more. This story is reminiscent of a Clive Cussler action thriller for older middle school students and teenagers. In addition, it is a great read for adults wishing for an energetic story. Of the main characters, one is a young man and two are young women. All are characters of action making this book appealing to both guys and gals. There is a little romance throughout the story but not in a gushy sort of way, just enough to keep the feminine readers hoping for more, yet enough action that the guy readers are eagerly anticipating the characters' next moves. Being adventurous and young, they spend more time in the air than on the ground, and the main characters do a good job battling the bad guys while learning loyalty to each other. New friendships are forged, and they discover they are capable of more than they imagined. The book's pacing moves quickly. Skybreaker is second in a trilogy but stands on its own quite well. Kenneth Oppel created a fictional world that would be thrilling to visit, if only it were real. Some of the language used by the author is a bit technical but when taken into context with the story, it is very understandable.
Content Analysis:
Profanity/Language: 1 mild obscenity; 1 derogatory name.
Violence/Gore: Attempted kidnapping at gun point of older teen characters; guns shot at teen characters while being pursued; adult characters hunted & killed on multiple occasions by fictional creatures that violently electrocute, several characters killed by these creatures; brief descriptions of electrocution of multiple adult characters resulting in fire coming from eyes, physical injury and death; adult character falls from an airship while at a high altitude; brief description of a petrified, long dead adult character thrown off airship; a few descriptions of multiple preserved adult dead bodies; brief description of fear of being buried alive; multiple gun battles between adult and teen characters, several adult characters die; brief description of an adult character killed by a machine that crushed his head.
Sex/Nudity: A character strips to his underwear to put on a special suit, non-sexual; brief mention of huge genitals on a large animal; mention of a woman's corset, non-sexual; a few brief kisses between male & female characters with brief caressing.
Mature Subject Matter:
Discrimination based on heritage, teenage rebellion, pre-arranged marriage, deaths (adult), murder, gun shot in self-defense by teen.
Alcohol / Drug Use:
Alcohol consumed one time by teens at a celebration but does not result in drunkenness; alcohol consumed a few times by an adult.
Reviewed By Beth