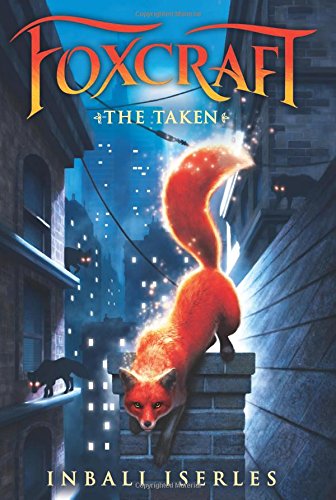 Publisher's Note:
The first book in a thrilling fantasy trilogy starring one of the animal kingdom's most hunted heroes. Foxcraft is full of excitement and heart, and a touch of magic.

Isla and her brother are two young foxes living just outside the lands of the furless -- humans. The life of a fox is filled with dangers, but Isla has begun to learn mysterious skills meant to help her survive.

Then the unthinkable happens. Returning to her den, Isla finds it set ablaze and surrounded by strange foxes, and her family is nowhere in sight. Forced to flee, she escapes into the cold, gray world of the furless.

Now Isla must navigate this bewildering and deadly terrain, all while being hunted by a ruthless enemy. In order to survive, she will need to master the ancient arts of her kind -- magical gifts of cunning known only to foxes. She must unravel the secrets of foxcraft.
The Taken (Foxcraft #1)
by Inbali Iserles
Overall Review:
The Taken is a book that will appeal to middle grade lovers of the Survivor Series, which makes sense since the author, Inbali Iserles, was one of the writers for that series under the pen name Erin Hunter. This new series combines animals with fantasy concepts and magic. In this book, there is an introduction of characters and a lot of questions raised without a lot of answers given. It did feel like there was a lot of wandering around--literally and figuratively--in the book. This is a book that will appeal mostly to the younger end of the middle grade demographic, but it does have a lot of detailed descriptions and some advanced vocabulary that might make young readers stretch (not necessarily a bad thing). This book and its characters did not particularly grab or enchant this reviewer, but I have a feeling that a few nine-year-olds out there will vehemently disagree.
Content Analysis:
Profanity/Language: None
Violence/Gore: Several verbal threats to hurt or kill; character chased upon multiple occasions; character attempts to attack another, resulting in minor injury; blood and fur is seen from a distance with implied death; character kills a rat; multi-page fight scene with biting, injures, and mention of blood; character falls to death; characters hunt, catch, and eat food; character hit by vehicle and imprisoned; repot of euthanizing of animals; character kills several others in a non-detailed scene, but blood is mentioned. Note: Characters are animals and thus, violence is animal to animal.
Sex/Nudity: None
Mature Subject Matter:
Death of family members, imprisonment, euthanizing of animals.
Alcohol / Drug Use:
None
Reviewed By Cindy