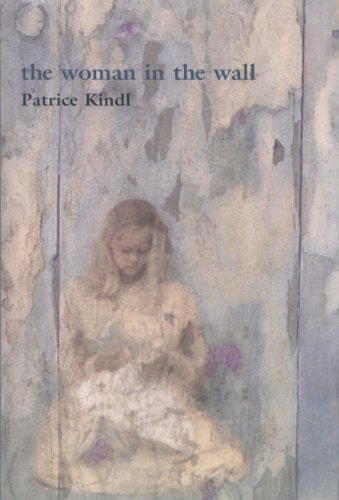 Publisher's Note:
And hide is what Anna does throughout the course of this amazing book. She retreats into the fabric of a big old house, building a series of passageways and secondary walls that allow her to share the life of the house unseen by her mother and sisters. As Anna says, her family is not observant. But Anna herself is a quirky and perceptive witness to the life she has chosen to escape. Then a mysterious message is thrusted through a crack in the wall, a message that gives Anna a reason to emerge.... Once again Patrice Kindl has created a magical world and an irresistible heroine.
The Woman in the Wall
by Patrice Kindl
Overall Review:
Having read the delightful Keeping the Castle by Patrice Kindl, this book was likely a victim of unrealistic expectations, and sadly, was somewhat disappointing. The Woman in the Wall is a young adult novel that began with a bit of a Roald Dahl-feel with a strange, small, shy girl that people couldn't see and as a result often had a tendency to sit on. As this odd girl fled to the walls of her home to hide, after a most unfortunate incident with a handbag, the book changed tone. It became more "realistic" and that made the narrative fray. As a reader I couldn't make the switch from odd, fantasy girl to teenage, realistic girl, who, although she clearly had mental issues, somehow miraculously and instantaneously overcame them and her debilitating shyness to step into a normal, teenage scenario. The plot line was relatively flat, and it was hard to get excited about the premise, the story, or the character. Amazon ratings would indicate that many readers enjoyed this book; however, it won't be making my "must-read" list.
Content Analysis:
Profanity/Language: 3 religious exclamations; 5 mild obscenities.
Violence/Gore: Character suffers bumps, bruises and minor injuries resulting from a temper tantrum; reference to Jane Eyre where the character sets fire to people in their beds.
Sex/Nudity: Reference to girlfriends/boyfriends; female character describes/lists some of the physical changes she is undergoes in puberty (bleeding, development, etc.); crush on another; love letter; references to bra, developing figures, periods, characters kissing, characters embracing, etc.; teenage male rubs thumb across face of teenage girl; characters slow dance; kiss on the forehead; vague reference to what "men and women do together".
Mature Subject Matter:
Extreme shyness, parental abandonment of family, death of a parent.
Alcohol / Drug Use:
None
Reviewed By Cindy