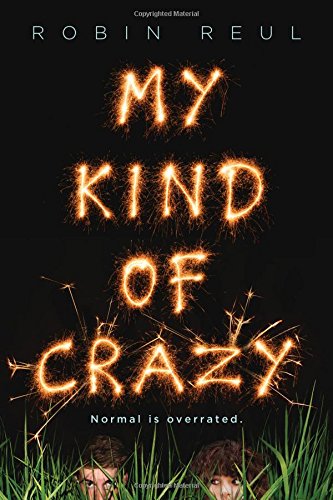 Publisher's Note:
Everybody needs someone who gets their crazy
Hank Kirby can't catch a break. He doesn't mean to screw up. It just happens. Case in point: his attempt to ask out the girl he likes literally goes up in flames when he spelled "prom" in sparklers on Amanda Carlisle's lawn...and nearly burns down her house, without ever asking her the big question.
Hank just wants to pretend the incident never happened. And he might've gotten away with it-except there is a witness.
Peyton Breedlove, brooding loner and budding pyromaniac, saw the whole thing, and she blackmails Hank into an unusual friendship. Sure, Hank may be headed for his biggest disaster yet, but it's only when life falls apart that you can start piecing it back together.
This book was sent to Compass Book Ratings for review by Sourcebooks Fire
My Kind of Crazy
by Robin Reul
Overall Review:
Sparks fly in Robin Reul's YA debut novel, My Kind of Crazy. This is an exceptional example of an adult that is able to capture teen dialogue that comes across as authentic and not trite (think John Green). Even more admirable is that a female author is able to pull off a male point of view with what seems like ease.
Hank Kirby, male protagonist, tells his story in first person format. He may not describe himself as stylish, but his humorous and poignant realizations about his life and the people that are in it are quite beautiful. And, it's not just the internal dialogue that makes for a good read, the character interactions and their discourse is equally compelling, giving readers two-fold entertainment.
While the author shines a hint of light on some pretty intense topics, (see Mature Subject Matter) she never delves deeper into the subjects. The author could have used this as an opportunity for a teaching moment, instead it's slightly glossed over and the issues are somewhat resolved, or in a state of limbo by the end of the book. It may have been that even though the author wanted some revealing material, she still wanted to keep the book playful.
My Kind of Crazy, is full of feel good moments, raw ache, and everything an emotional teen can conceive, but the craziest thing of all, you might just enjoy every moment of it.
"...it occurs to me that I have no idea what normal is anymore. Normalcy is elusive, redefining itself on a daily, if not hourly basis."
Content Analysis:
Profanity/Language: 29 religious exclamations; 68 mild obscenities; 9 religious profanities; 13 derogatory names; 97 scatological words; 46 anatomical terms; 1 offensive hand gesture; 13 F-words. Note: OMG was used once and was not tallied.
Violence/Gore: Character explains arson; destruction of property by fire; character comically fantasizes about violent actions that could be taken against him/her; rumor that character's family has ties to a criminal organization, this theory is mentioned a few times throughout the novel; adult male grabs female teen forcefully; brief mention of murder and suicide; character suspects teen is a victim of parental abuse; character feels another character is being excessively aggressive against him/her during gym dodge ball; rumor that character received scar during knife fight; character sees bruise on another character, believes it happened in a violent altercation; parent threatens teenage child with physical harm; extended scene (about 1 page) report of witnessing violence, discussion of parent being a killer; secondhand report of character losing a leg in war; idle threat; character accidentally hits head, mention of blood; character takes inventory of another character's injuries; extended scene (about ½ page) teen character tells another character how their parent violently attacked him/her; parent denies physical abuse against child; character reveals they've been harming themselves; extended scene (about 1 page) character accidentally cuts themselves, character passes out from smoke inhalation, destruction of property.
Sex/Nudity: Male teen feels uncomfortable standing in only his boxer shorts in front of his father's live-in girlfriend; slang for male genitalia; mention of father's girlfriend working as an exotic dancer; slang for female chest; character mentions father met girlfriend while she worked at strip club; sexual reference; teen male sees adult female exit shower in towel; embrace; mention of virginity; sexual reference; teen male notices teen female's tight jeans; male wears pants low enough for underwear to be exposed; brief joke about sexual orientation; teen mentions mother dates and has had many live-in boyfriends; description of adult female's revealing attire; slang for female's chest and nipples; exotic dancer offers to let underage male in to strip club to receive a private dance; slang for male anatomy; character reveals he/she was born out of wedlock; character comments that their single dad checked out a female's chest; extended scene (about ½ page) character shares with other characters walking in on parent having sexual relations with a stranger; teen male notices adult female's underwear is visible; embrace and kiss; character believes parent was having a sexual affair while still married; male character describes being hugged by a large breasted female; teen male notices adult female's attractiveness as he assess her body; character believes unwed family member may be pregnant; teens flirt; extended scene (about ¼ page) character reports seeing two teen males kissing one another aggressively; slang for masturbation; female admits to date trying to put moves on her; embrace; male and female teen who are attracted to one another fall asleep sided by side (mention of this happening a few times); slang for male anatomy; embrace (2x) and cuddle; teens caress and kiss passionately while lying in bed with one another; kiss; sexual reference; parent believes his teen had sex and is okay with teen's underage boyfriend/girlfriend moving in; teens enter strip club seeing scantily clad women; hand hold; embrace (2x); male admires female's body; joke of condemns and lubricant; hand squeeze; package art designed to look like female chest with nipples; mention of nudity; male teen enters strip club, sees nearly naked women dancing on pole (2x); scantily clad woman hugs teen male; comment on adult female's revealing clothing; teen male looks at lingerie catalog; slang for male genitalia; kiss; sexual reference; brief after the fact report of teens having sex; teens lay in bed together; sex reference; kiss on head + cuddle; kiss + sexual reference; slang for male genitalia; couple talks about moving in with one another; name of strip club establishments name, which references female chest, is mentioned a few times.
Mature Subject Matter:
Alcoholism, mental illness/pyromania/self-harm, parental neglect/physical and verbal abuse, death of family member(s), dysfunctional family.
Alcohol / Drug Use:
Many mentions of teen being present when father drinks alcohol excessively/being an alcoholic throughout book; character is fired from work for drinking on the job, must attends AA meetings; reference to drug distribution; mention of character's house smelling of beer and cigarettes; students witness teacher smoking marijuana; teen character desires to smoke marijuana; drug references (a few times); report of parent being high and intoxicated.
Reviewed By MaryLou