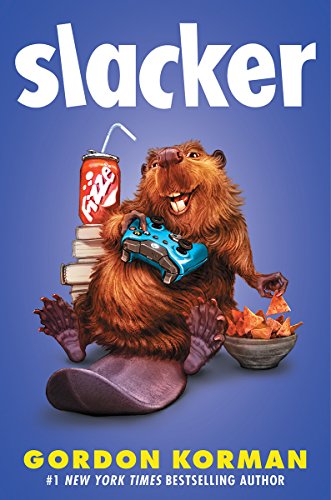 Publisher's Note:
Cameron Boxer is very happy to spend his life avoiding homework, hanging out with his friends, and gaming for hours in his basement. It's not too hard for him to get away with it . . . until he gets so caught up in one game that he almost lets his house burn down around him.
Oops.

It's time for some serious damage control--so Cameron and his friends invent a fake school club that will make it seem like they're doing good deeds instead of slacking off. The problem? Some kids think the club is real--and Cameron is stuck being president.

Soon Cameron is part of a mission to save a beaver named Elvis from certain extinction. Along the way, he makes some new friends--and some powerful new enemies. The guy who never cared about anything is now at the center of everything . . . and it's going to take all his slacker skills to win this round.
This book was sent to Compass Book Ratings for review by Scholastic
Slacker
by Gordon Korman
Overall Review:
Author Gordon Korman is an expert at capturing the middle school stereotypes and making them relatable for everyone. In his new novel, Slacker, he hits the mark again. From the dedicated gamer, to the do-gooder, to the resume builder, to the jock on academic probation...Gordon brings them all together in one story with a problem to solve. The question is, can they really all work together? Well, the answer will come by reading Slacker.
Cameron thinks he has his life figured out and his life goal is to win a huge gaming competition. The only problem is his plan doesn't quite go along with the plan his parents have for him. His plans come crashing down when he makes a very big mistake and doesn't listen to his mother. So now his life plans have to take a little detour. It's in this detour that Cameron's life becomes a little more complicated in his eyes, and he feels like his carefully crafted lifestyle is doomed when it comes to his gaming plans. As all of these characters come together a little chaos and a lot of comedy ensue, much of which revolves around a furry creature, making Slacker a very enjoyable and hilarious read.
Here are some other novels to enjoy by Gordon Korman: Mastermind, Swindle, Ungifted
Content Analysis:
Profanity/Language: None
Violence/Gore: Girl tackles an old man; character grabs another character in a choke hold in order to get his attention.
Sex/Nudity: None
Mature Subject Matter:
None
Alcohol / Drug Use:
None
Reviewed By Sally