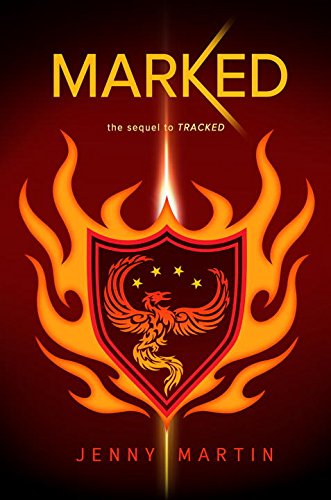 Publisher's Note:
Mad Max meets Firefly in the exhilarating sequel to the sci-fi novel Tracked

Cash, the prince of Bisera and leader of the rebellion, is missing. Phee's uncle James is dead. And Charles Benroyal, once again, is behind it all. Caught between grief, thoughts of revenge, and traumatizing flashbacks of battle, Phee struggles to aid the resistance and prove her worth, even as she attempts to reconcile her growing romantic feelings for Bear with her loyalty to Cash. But when Benroyal's attacks grow bolder, no one is prepared for the sacrifices Phee will have to make to win this war once and for all.

With the high-stakes action of The Fast and the Furious, a swoony love triangle, and a wholly original science fiction world, Marked will have your heart racing until its breathless conclusion.
This book was sent to Compass Book Ratings for review by Penguin
Marked
by Jenny Martin
Overall Review:
Marked is book two of Jenny Martin's Tracked series. Having not read the first book, Tracked, I can only guess from reviews that book one was very focused on aircraft racing (think pod racing in Star Wars) with a war beginning at the end of the book. That said, Marked picks up shortly after book one while they are in the middle of that war. This part of the story reminded me a bit of Hunger Games (Catching Fire) with a rebellion, a love triangle, and a female protagonist who doesn't always think things through before jumping into dangerous situations. Add planet hopping to that and you have Marked. I really appreciated Martin's development of the main character, Phee. She's been through a lot and is emotionally struggling, but it's great to see her growth throughout the story as she deals with her issues. The book is full of action and suspense but also has a little bit of romance so it will appeal to a large YA audience. Martin leaves the story wide open so I can only assume there will be a sequel to this fun story.
Review of an Advanced Reader's Copy
Content Analysis:
Profanity/Language: 3 religious exclamations; 7 mild obscenities; 6 derogatory names.
Violence/Gore: Many (37) brief incidents including character thinks about hurting another; potential death; character jokes about a verbal threat; staged video of murder; verbal threats; gun aimed at someone; characters thinking about war; secondhand reports of riots; references to attacks resulting in the death of some; references to murder; secondhand reports of bombings; character sees a bloody instrument that was used in a medical procedure; secondhand report and watching video of torture; reference to suicide; character attacked and kidnapped; character pistol-whipped; character dreams of death; character experiences fights in a simulator; characters get shot at; torture; characters stunned; fields of flowers set on fire; incidents of death during war.
Extended incident of attack, resulting in death.
Sex/Nudity: Several (13) brief incidents including cuddling; holding hands; kissing; hugging; arm around; metaphor referring to a faithless wife; reference to a homosexual relationship.
Mature Subject Matter:
War, murder, slavery (mentioned), torture, drug addiction.
Alcohol / Drug Use:
Reference to drug lab; adult characters drink alcohol; two references to characters who are addicted to drugs.
Reviewed By Jenny