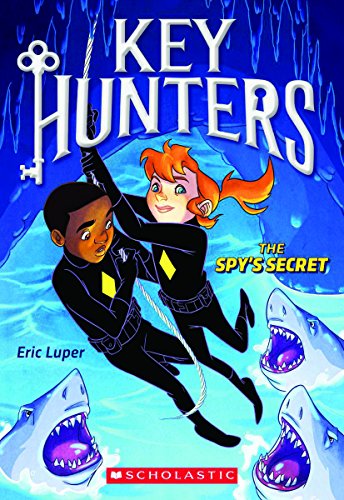 Publisher's Note:
Cleo and Evan have a secret. A collection of books so dangerous they are locked up tight. A friend has vanished inside the pages of one of them. It's up to them to find the key that will set her free.
A SPY MUST BE READY FOR ANYTHING!
Agents Cleo and Evan have been given an impossible mission: become super-spies and foil the plans of an evil mastermind. But it won't be easy to break into the Viper's secret underwater lair, complete a daring rescue, find the right key, and get out alive
This book was sent to Compass Book Ratings for review by Scholastic
Key Hunters: The Spy's Secret
by Eric Luper
Overall Review:
The Spy's Secret is the second of four books in an exciting new series titled Key Hunters by author Eric Luper. (Be sure to see the review of book one, The Mysterious Moonstone.)
In The Spy's Secret, Cleo and Evan find themselves in a spy adventure, tasked with a secret mission. With special gadgets, cool vehicles, and all dressed in black, they fit the role, but they need to prove themselves physically and mentally in order to save the day. And of course there is the evil villain they need to thwart. Can they do it? Well, you'll just have to read the novel to find out. The Spy's Secret is a great introduction for beginning readers to the fast-paced, action-packed adventures that fall under the genre of spy novels, and it is sure to be enjoyed by those budding readers.
Review of an Advance Reader's Copy
Content Analysis:
Profanity/Language: None
Violence/Gore: Kid throws a can at someone who is chasing them, hitting the person in the head with it; kids trip up characters chasing them 2 times-once with something slippery and the other time with a rope which caused the character to fall down the stairs and get knocked out; person appears to fall into a volcanic pit; kids are tied up and hung over an aquarium with hungry animals (3 page description); person tackles another person to prevent escape; person pushes another down, causing them to hit their head.
Sex/Nudity: None
Mature Subject Matter:
None
Alcohol / Drug Use:
None
Reviewed By Sally