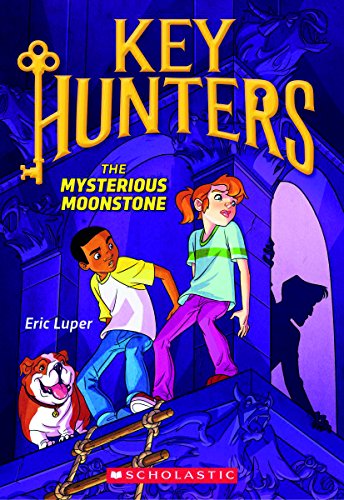 Publisher's Note:
Cleo and Evan have a secret. A collection of books so dangerous they are locked up tight. A friend has vanished inside the pages of one of them. It's up to them to find the key that will set her free.
A PRICELESS DIAMOND...STOLEN!
When Cleo and Evan go undercover to help a rookie detective interview a mansion full of suspects, nothing is as it seems. They must catch the crook -- and find the right key -- or they could be trapped inside this mystery forever...
This book was sent to Compass Book Ratings for review by Scholastic
Key Hunters: The Mysterious Moonstone
by Eric Luper
Overall Review:
The Mysterious Moonstone is one of four books in an exciting new series titled Key Hunters by author Eric Luper. This series is perfect for those readers making the jump to chapter books. Each of the four books are in a different genre, which is a great way to expose beginning readers to what is out there in the reading world by way of types of books. The main characters, Cleo and Evan, appear in each of the four books and each book contains a "key". They need to collect these keys (which allow them to literally become part of the story of the books they open) as part of a giant quest to free their school librarian who is trapped in the story of a book. When Cleo and Evan use these keys they become characters in the book they just unlocked, taking the readers with them on an exciting adventure.
In The Mysterious Moonstone, which falls in the mystery genre, Cleo and Evan find the mysterious library for the first time and get drawn into a book with a mystery they need to help solve. As the get into character as apprentice detectives, they learn they need to help a Detective Artie Baker solve the mystery of a missing necklace. It's a classic "who done it" mystery that makes this novel a quick and enjoyable read and leaves the reader guessing to the end.
Book two in the serious is The Spy's Secret.
Review of an Advance Reader Copy
Content Analysis:
Profanity/Language: None
Violence/Gore: Character tells story of having lost his leg to a Bengal tiger; chandelier is intentionally dropped on 3 people but no one is hurt; character hits somebody on the head with a cooking spoon.
Sex/Nudity: None
Mature Subject Matter:
None
Alcohol / Drug Use:
None
Reviewed By Sally