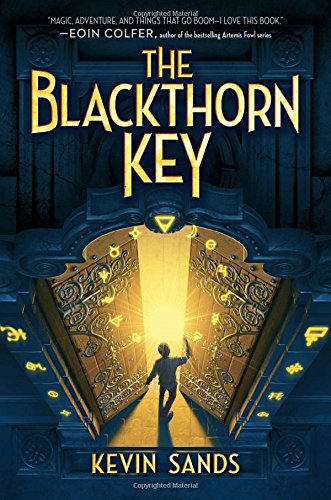 Publisher's Note:
Following a series of murders, an apothecary's apprentice must solve puzzles and decipher codes in pursuit of a secret that could destroy the world in this suspenseful debut novel.

"Tell no one what I've given you."

Until he got that cryptic warning, Christopher Rowe was happy, learning how to solve complex codes and puzzles and creating powerful medicines, potions, and weapons as an apprentice to Master Benedict Blackthorn—with maybe an explosion or two along the way.

But when a mysterious cult begins to prey on London's apothecaries, the trail of murders grows closer and closer to Blackthorn's shop. With time running out, Christopher must use every skill he's learned to discover the key to a terrible secret with the power to tear the world apart.

In his stunning debut novel, Kevin Sands brings readers on a heart-stopping adventure rich with suspense, mystery, and unforgettable characters.
The Blackthorn Key
by Kevin Sands
Overall Review:
The Blackthorn Key starts out with an explosion and is a blast both literally and figuratively from start to finish. This novel, set in London during the 1600s, is centered around 13-year-old orphan Christopher Rowe, an apothecary apprentice. When his Master, Benedict Blackthorn, dies violently, Christopher is caught in a dangerous web of alchemy, puzzles, and codes within codes; everything with which Christopher is connected becomes embroiled in secrets and traps including a plump salt-and-pepper-speckled pigeon. The story twists and turns with heroes and villains alike on the quest for the key to power of such force that whoever controls it will change the world.
Kevin Sands, the author, uses the details of the setting to color and flavor the novel. The reader enters the mysterious world of medieval medicine where apothecaries wrote their recipes in code lest someone steal them, where shops are filled with strange smells, herbs, and powders, even gold and silver, all contained in bottles and jars of all shape. Mr. Sands' writing makes London so real the reader can smell the garbage and waste as the characters step into the London streets. Mr. Sands' knowledge of medieval England underpins the story by using actual English holidays and traditions to build a sense of reality.
The characters are well-developed and certainly human. What reader would not believe that both Christopher and his friend Tom Bailey, being teenagers boys, are frequently in trouble due to curiosity and poor judgment? Their adventures together add humor to an otherwise serious story. The relationship between Christopher and Master Blackthorn is a bond of disciple and genuine love. As it turns out, that love exacts a terrible price. The villains are as well-developed as the heroes and the story climax holds a strong ending with a surprise. This plotline could have become complicated because of the number of characters, the deciphering of the codes, and the fast-paced action, but Mr. Sands skillfully weaves connections to keep the narrative clear and steadily moving forward.
Mr. Sands has used his degrees in theoretical physics and experience in research to build a story that will appeal to both young men and women who love history, solving mysteries, and enjoy action. This novel won a 2015 Cybils Award in fiction. Mr. Sands has a new book, The Mark of the Plague, coming out in September.
Content Analysis:
Profanity/Language: 3 archaic profanities; 1 use of British expletive "bloody".
Violence/Gore: 2 scenes of non-life threatening actions; 4 scenes involving explosives--2 of which resulted in injury or death; 4 murders with little or no detail but the mention of blood and brief description (1-2 sentences) of the body; reports of murders that have been occuring with rumors of a cult; a body part is found during an investigation (brief); 2 scenes of brief violence; 2 scenes of extended fighting between several characters using knives, battle axes, guns, physical objects, chemicals, etc. resulting in death or severe injury with brief mention of blood and gore, stabbing with spear, loss of fingers, murder, etc. with brief descriptions; characters seek skeletons in crypt; report parent beats child; man slaps a teenage boy across the face hard; parent hits their child; large amounts of dried blood seen on the floor of a room.
Sexn/Nudity: None
Mature Subject Matter:
Professional jealousy/control, suicide, death, homelessness, robbery, murder, cult, physical abuse (parent-child), poverty, politics.
Alcohol / Drug Use:
Main characters are apothecaries; character given a drug to when injured to relieve pain.
Reviewed By Marilyn