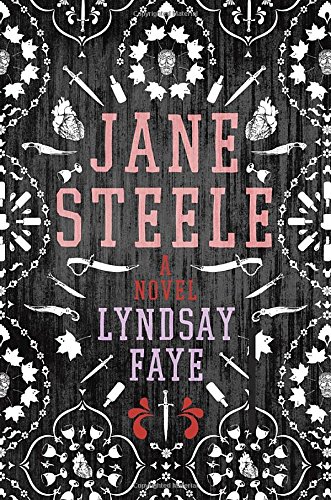 Publisher's Note:
A reimagining of Jane Eyre as a gutsy, heroic serial killer, from the author whose work The New York Times described as "riveting" and The Wall Street Journal called "thrilling."

"A thrill ride of a novel. A must read for lovers of Jane Eyre, dark humor, and mystery."
—PopSugar.com

"Reader, I murdered him."

A sensitive orphan, Jane Steele suffers first at the hands of her spiteful aunt and predatory cousin, then at a grim school where she fights for her very life until escaping to London, leaving the corpses of her tormentors behind her. After years of hiding from the law while penning macabre "last confessions" of the recently hanged, Jane thrills at discovering an advertisement. Her aunt has died and her childhood home has a new master: Mr. Charles Thornfield, who seeks a governess.

Burning to know whether she is in fact the rightful heir, Jane takes the position incognito, and learns that Highgate House is full of marvelously strange new residents—the fascinating but caustic Mr. Thornfield, an army doctor returned from the Sikh Wars, and the gracious Sikh butler Mr. Sardar Singh, whose history with Mr. Thornfield appears far deeper and darker than they pretend. As Jane catches ominous glimpses of the pair's violent history and falls in love with the gruffly tragic Mr. Thornfield, she faces a terrible dilemma: can she possess him—body, soul, and secrets—without revealing her own murderous past?

A satirical romance about identity, guilt, goodness, and the nature of lies, by a writer who Matthew Pearl calls "superstar-caliber" and whose previous works Gillian Flynn declared "spectacular," Jane Steele is a brilliant and deeply absorbing book inspired by Charlotte Brontë's classic Jane Eyre.
This book was sent to Compass Book Ratings for review by G. P. Putnam's Sons
Jane Steele
by Lyndsay Faye
Overall Review:
Jane Steele is a riveting Gothic romance by internationally bestselling author Lyndsay Faye. The novel is a loose retelling of Charlotte Bronte's timeless Jane Eyre, complete with multiple nods to the classic and Bronte's passages begin every chapter. This being said, readers do not need to have read Jane Eyre to enjoy Faye's Jane Steele. The main difference between the two books being is Miss Jane Steele is a serial killer. In spite of her murderous ways, Jane is easy to love and readers will be drawn in by her compelling narrative. Jane is also clever and resourceful, and her evolution as a character makes the book hard to put down. Faye's writing is exquisite, with similes, metaphors and descriptions that produce a myriad of quotable lines. The book's emphasis on India, the British Raj, and Sikhism adds to the story's beauty and romance. Jane Steele will delight romance, Gothic and Bronte fans alike!
Review of an Advance Reader Copy
Content Analysis:
Profanity/Language: 14 religious exclamations; 34 mild obscenities; 8 derogatory names; 1 scatological word; 1 anatomical term.
Violence/Gore: Several brief scenes of implied violence or verbal threats, including hearing sounds of domestic abuse; multiple secondhand reports of violence involving murder, drowning, death by poison, war, injury, physical fighting, and writing newspaper stories about murder and last confessions; several brief scenes of violence involving slapping, fist fights and a character ripping a necklace off another; several non-detailed scenes of violent death consisting of drowning, pushing a character to his death, and being thrown from a horse; a few scenes of blood and gore include domestic abuse that leads to miscarriage, the aftermath of stabbing a character, and reading a detailed newspaper report; a few brief (less than a page) scenes of intense violence occur during a stabbing, a home evasion, battle, and scene where a character's arm is cut off.
Sex/Nudity: Several incidents of kissing, including a man kissing a woman and a woman kissing another woman; a non-sexual depiction of nudity involving corpses at a morgue; several sexual references including allusions to homosexuality; a character forces himself on another and humps her leg; several implied or reported occurrences of sexual activity involving prostitution and concubines; a few mentions of reading and/or writing erotica; a woman is accosted in areas normally covered by a bathing suit; a boy pulls down his pants and shows his genitals to a girl; a character discusses her enjoyment of intercourse; a scene of sexual activity without explicit detail between adults.
Mature Subject Matter:
Murder, war, attempted rape, homosexuality, suicide, death of family members and friends, betrayal, blackmail, kidnapping, homelessness, stealing, corpses, domestic abuse, polygamy, drugs, drinking and smoking.
Alcohol / Drug Use:
Characters frequently drink and smoke; a man is described as being drunk and drugged; a character uses chewing tobacco; a character frequently uses laudanum to calm her nerves.
Reviewed By Rachel