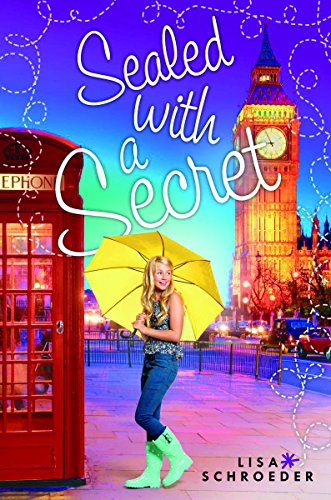 Publisher's Note:
When Phoebe finds a beautiful antique at a flea market, she's not sure whether it's as valuable as it looks. But inside she discovers something truly amazing a letter written during World War II, from a young girl to her sister who's been evacuated from London. The letter includes a "spell" for bringing people closer together: a list of clues leading all through the city. Each stop along the way adds up to magic.

Phoebe is stunned. Not only has she found a priceless piece of history, the letter is exactly what she needs -- she's also separated from her sister, though not by distance. Alice leaves for university soon, but in the meantime, she wants nothing to do with Phoebe. They used to be so close. Now that Phoebe has this magical list, maybe she can fix everything! That is, unless she accidentally makes everything worse instead...

From the author of "My Secret Guide to Paris" comes an unforgettable trip through London, with secret treasures around every corner!
This book was sent to Compass Book Ratings for review by Scholastic
Sealed with a Secret
by Lisa Schroeder
Overall Review:
Author Lisa Schoder yet again offers a captivating novel that transports one to a European city, this time London, and pulls one into a story revolving around a treasure hunt of sorts. In Sealed with a Secret, 12-year-old Phoebe is on a quest to find a little magic, which all started with a 60 year old letter she found in an antique locket. As the novel starts, Phoebe and her sister Alice are at odds with each other and not really getting along. Phoebe misses the 'old' Alice and the relationship she had with her sister before her sister became caught up with boys and heading off to university. The letter Phoebe found promises to bring two people together "when there is a distance between them", if the person making the wish does the seven activities listed. Phoebe hopes that the magic will work for the "distance" she now feels with her sister; so she sets off to do the activities, which take the reader on a little tour of London.
Does the magic work? Well, you have to read Sealed with a Secret to find out. Along the way you'll see Phoebe grow a little in maturity as she accepts the fact she needs to forgive, learns that sometimes it's hard to take the first step to bridge the gap, and sometimes what will be, will be. Through it all, though, with the help of others, Phoebe learns to find the magic in the ordinary.
Sealed with a Secret is a charming novel about sisterly love and the force that comes with that bond. It is Schoder's second novel of this type, with the novels being loosely connected with common characters. (The other book is titled My Secret Guide to Paris.) However, Sealed with a Secret stands alone and could easily be understood without having read the first book. If you are looking for a fun European escape that reminds you about the power of love in a family, this is the book for you.
Also by Lisa Schroder My Secret Guide to Paris and Charmed Life.
Content Analysis:
Profanity/Language: None
Violence/Gore: Mention of WWII with mention of air raids and evacuation of children to the countryside.
Sex/Nudity: None
Mature Subject Matter:
WW II.
Alcohol / Drug Use:
None
Reviewed By Sally