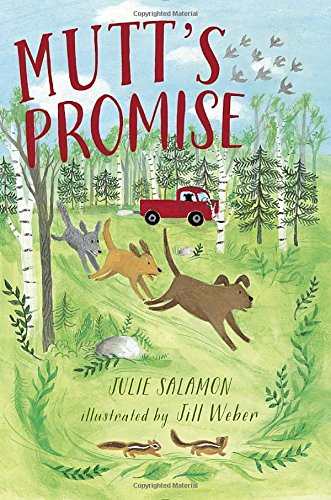 Publisher's Note:
Fans of The Incredible Journey and Old Yeller will love this endearing, page-turning dog adventure story

Luna is a farm puppy who loves to dance, and has only known a happy, serene life surrounded by her mother, Mutt, and her siblings, and cared for by Gilberto, the son of farm workers. But now Gilberto and his parents have moved on, and Mr. Thomas the farmer doesn't feel he can take care of a whole family of dogs. He finds new homes for the puppies, not realizing that the man who took Luna and her brother does not have their best interests at heart. Luna and Chief, hungry and scared, are trapped in the smelly barn of a puppy mill—until they take matters into their own paws and find a way to escape. But can Luna and Chief find their way home?

With a lovable cast of animal characters and endearing illustrations, this charming story is a perfect read-aloud for fans of classic children's novels like Gentle Ben, A Cricket in Times Square, and Shiloh.
This book was sent to Compass Book Ratings for review by Dial Books for Young Readers
Mutt's Promise
by Julie Salamon
Overall Review:
Julie Salamon tells the tale of a momma dog making her way from a previous life into her new life on a farm. She is still a young dog and a little confused about life. As time moves on, the reader becomes aware that Mutt is expecting, and eventually, Mutt realizes it too. She has her puppies and the reader gets to watch them grow up and fall in love with each one's personality. The reader gets to 'hear' what goes on inside of their heads as they grow and hear them 'speak' to each other. As they get older, it becomes time for them to go to a new home. Some of the puppies go to a great home and some are in for an adventure. Turmoil, heartache, fear, and violence soon become part of their worlds. Readers will frantically read on to see what happens to the adorable pups. I had a feeling I knew what the outcome would be, but the tale that Salamon wove to get to the ending was one I never saw coming! Black and white pencil drawings throughout the book make the story all the more interesting. Jill Weber, illustrator, and Julie Salamon make a good pair for children's literature.
Content Analysis:
Profanity/Language: None
Violence/Gore: A cat is attacked with a little blood; dog gives birth to puppies with no details; man takes puppies to a puppy mill that is filthy and scary; man grabs momma dog by her neck and throws her down; man keeps puppies in tiny cages; Rottweiler is trained to be mean and vicious.
Sex/Nudity: None
Mature Subject Matter:
Puppy birth, puppy mills, separation.
Alcohol / Drug Use:
None
Reviewed By Nicole