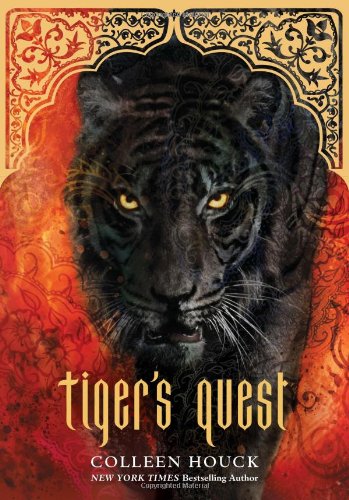 Publisher's Note:
Back in Oregon, Kelsey tries to pick up the pieces of her life and push aside her feelings for Ren. But danger lurks around the corner, forcing her to return to India where she embarks on a second quest--this time with Ren's dark, bad-boy brother Kishan, who has also fallen prey to the Tiger's Curse. Fraught with danger, spellbinding dreams, and choices of the heart, TIGER'S QUEST brings the trio one step closer to breaking the spell that binds them.
This book was sent to Compass Book Ratings for review by Random House
The Tiger's Quest
by Colleen Houck
Overall Review:
Fans of Colleen Houck's first book, Tiger's Curse, will enjoy her second novel in the series, Tiger's Quest. It is similar in tone and retains many of the same elements. As Houck's second novel, Tiger's Quest shows some improved, although spotty, writing. Dialogue continues to be a challenge, but there are several passages that flow well and lose their stiffness. Likewise, a couple of the fantasy-battle scenes are well-executed. However, character, plot, and pacing problems continue to plague this series. Focusing exclusively on romantic feelings and angst and coming off a weak ending in the first book, it is hard going for the first 150 pages until the plot actually begins. The characters leisurely move through the narrative without much urgency or difficulty until they encounter the "fourth" test. At this point, the characters are truly put through some paces and it becomes clear that a character is in peril, suffering, and in mortal danger, thus finally establishing the urgency that the series has desperately needed. Unfortunately, this momentum is squandered by a character literally taking a break and doing her laundry. Character consistency, motivation, differentiation, and likability continue to be lacking.

Where Tiger's Quest excels most over Tiger's Curse, is with its strong, compelling ending that provides some enticement to check out the next book in the series. If you were a fan of the first book, Tiger's Curse, then you will probably continue to enjoy the series in Tiger's Quest.
Content Analysis:
Violence included the following: two characters/animals fighting; dreams in which a character sees a tortured character; a character is tortured; a moderate and extended battle involving martial art weapons, punching, hitting, biting, tranquilizer guns, lightening between men and animals, with implied deaths; a moderate scene where an animal attacks a character and two animals fight; a moderate battle between characters and some birds; a moderate battle involving explosions, people falling from towers, kicking, punching, bleeding, etc.; a character punches another character.

Language is squeaky clean in this book.

Sexual content is similar to that found in the first book of the series. Primary sexual content involves kissing: kissing of hands, kissing of fingers, kiss on the cheek, trying to get a character to kiss another character, etc. Descriptions were brief and kissing was limited to the neck and up. A few scenes had some passionate kissing, but still within the aforementioned parameters. Other sexual content included a character receiving a massage, sirens tempting some characters, and a character repeatedly "coming on" to another character. Two characters (literally) sleep next to each other a couple of nights.
Mature Subject Matter:
Mature themes lightly touched upon were freedom, jealousy, betrayal, and loyalty.
Alcohol / Drug Use:
***
Reviewed By Cindy