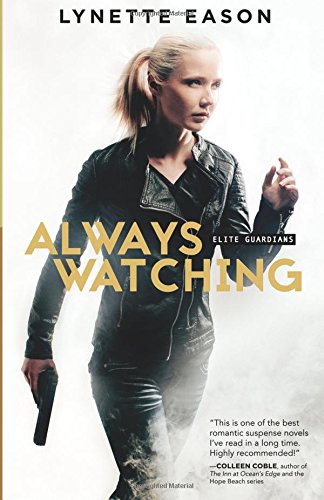 Publisher's Note:
The bodyguards of Elite Guardians Agency have more than just skill and prowess in common--they're also all women. When it becomes clear that popular psychiatrist and radio personality Wade Savage has a stalker, his father secretly hires Elite Guardians in order to protect his son.

But when Wade's bodyguard is attacked and nearly killed, agency owner Olivia Edwards must step in and fill the gap. Olivia's skills are about to be tested to the limit as Wade's stalker moves from leaving innocent gifts at his door to threatening those closest to him. Olivia has the feeling that she's next on the list. And to complicate things even further, she realizes that her heart may be in as much danger as her client.

Bestselling author and fan favorite Lynette Eason drops readers right into the action in this fast-paced new series with a unique twist. Readers will love these strong female characters who put it all on the line to save lives.
This book was sent to Compass Book Ratings for review by Revell
Always Watching
by Lynette Eason
Overall Review:
Elite Guardians is the newest series by Lynette Eason. Always Watching starts with intense action that pulls the reader in and the pace really never slows. There are a few lulls, but they are very short-lived and add balance to the story. This is a work of Christian fiction, but don't be fooled into thinking it is a soothing read.
Lynette Eason specializes in psychopaths whose twisted minds are so disturbing that it is hard to tell who the real villains are. Eason makes it pretty easy for readers to guess certain things, but then she plants enough suspicions to cause one to doubt those guesses. Perhaps this is what makes Lynette Eason's stories so compelling: one never knows the end until the final page is read.
There are some elements of romance in the book and for the most part it is believable and not excessively gushy. One area that seems underdeveloped was the relationship between the female love interest, Olivia and Amy, the daughter of the male half of the romance, Wade. Olivia and Wade are given lots of text time and Amy and Wade get a few pages, but very little is said of the relationship between Amy and Olivia. This makes the excitement of Amy about her father dating Olivia seem premature.
Look forward to many page-turning, chair-gripping, and hair-raising scenes to entice those who love thrillers. Romantics will enjoy their fair share, but the focus is really on the suspense. Good luck figuring out who the stalker is!
Content Analysis:
Profanity/Language: None
Violence/Gore: Character is willing to kill someone; several scenes where people are drugged, tied up and threatened with weapons; report of a person's throat being cut is referenced many times throughout the book, no further details given; blood is found pooled in a box; bomb explodes, no fatalities; a report of a character being impaled on a fence resulting in death is mentioned multiple times; report of a person having committed suicide by shooting herself and man thinks about it often; a character throws a knife at someone; an arsonist starts a house on fire with a person inside; several scenes in which shots are fired and in one case, blood is mentioned; report of a teen trying to drown another child.
Sex/Nudity: Scene discussing how a character wanted an abortion, but was persuaded not to have one; non-married characters embrace and kiss.
Mature Subject Matter:
Death of parents, death of spouse, child abandoned by a parent, kidnapping, murder, stalking suicide.
Alcohol / Drug Use:
Report of teens drinking and using recreational drugs; reports that adults were drunk; people are drugged and tied-up.
Reviewed By Susan