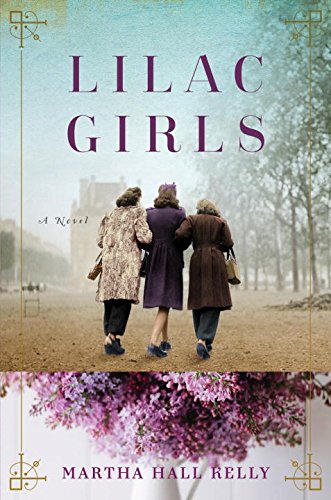 Publisher's Note:
Inspired by the life of a real World War II heroine, this powerful debut novel reveals an incredible story of love, redemption, and terrible secrets that were hidden for decades.

New York socialite Caroline Ferriday has her hands full with her post at the French consulate and a new love on the horizon. But Caroline's world is forever changed when Hitler's army invades Poland in September 1939—and then sets its sights on France.

An ocean away from Caroline, Kasia Kuzmerick, a Polish teenager, senses her carefree youth disappearing as she is drawn deeper into her role as courier for the underground resistance movement. In a tense atmosphere of watchful eyes and suspecting neighbors, one false move can have dire consequences.

For the ambitious young German doctor, Herta Oberheuser, an ad for a government medical position seems her ticket out of a desolate life. Once hired, though, she finds herself trapped in a male-dominated realm of Nazi secrets and power.

The lives of these three women are set on a collision course when the unthinkable happens and Kasia is sent to Ravensbrück, the notorious Nazi concentration camp for women. Their stories cross continents—from New York to Paris, Germany, and Poland—as Caroline and Kasia strive to bring justice to those whom history has forgotten.

In Lilac Girls, Martha Hall Kelly has crafted a remarkable novel of unsung women and their quest for love, freedom, and second chances. It is a story that will keep readers bonded with the characters, searching for the truth, until the final pages.
This book was sent to Compass Book Ratings for review by Ballantine Books
Lilac Girls
by Martha Hall Kelly
Overall Review:
Lilac Girls by Martha Hall Kelly can be described as heartbreaking. This massive novel--almost 500 pages--is inspired by real people and true events. Lilac Girls is narrated by three women protagonists during World War II and the Cold War. The novel is unique as one of the three narrators is a Nazi doctor. Seeing things from her perspective, as the story's villain, offered an unusual and provocative viewpoint.
Despite its length, Lilac Girls is fast-paced and most chapters end in cliffhangers, so the book is almost impossible to put down. The plot centers around the Ravensbruck Concentration Camp and involves some dark and horrifying subject matter that may make readers squeamish and/or uncomfortable. Lilac Girls is a fascinating work of fiction and a powerful reminder that good can conquer evil.
Review of an Advance Reader Copy
Content Analysis:
Profanity/Language: 23 religious exclamations, 8 mild obscenities, 2 religious profanities and 5 scatological words.
Violence/Gore: Several second hand reports of violence involving war crimes, kidnapping, murder, torture, concentration camps, and Pearl Harbor; several brief incidents of violence involving an adult slapping a child, bombings, suicide attempt, whipping prisoners and experimental operations on prisoners; a few non-detailed scenes of violent death including hanging and shootings; a few scenes of intense violence when a woman is mauled to death by a dog and experimental operations are described; a brief scene of rape among teenagers; a brief yet explicit description of sexual abuse.
Sex/Nudity: A few incidents of kissing; a few non-sexual depictions of nudity involving a gynecologist exam and concentration camp prisoners being made to strip naked; a few sexual references and an incident of touching a character on her bottom; several implied or reported accounts of sexual activity involving rape, brothels and prostitution; a mention of pornography, a brief scene of nudity with sexual innuendo; a discussion regarding sex; a brief scene of rape among teenagers; a brief yet explicit description of sexual abuse.
Mature Subject Matter:
War, the Holocaust, concentration camps, rape, sexual abuse, refugees, religious persecution, surgical experimentation, torture, cancer, homosexuality, death of family members, abortion, STDs, kidnapping children, the Polish Underground, cutting.
Alcohol / Drug Use:
Characters frequently drink and smoke.
Reviewed By Rachel