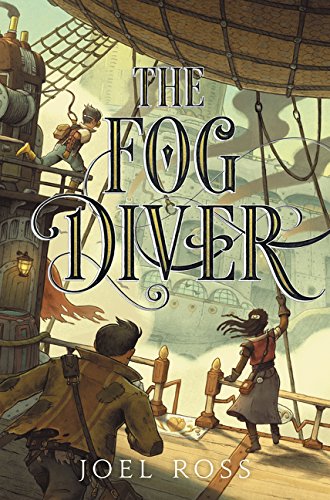 Publisher's Note:
Joel Ross debuts a thrilling adventure series in which living in the sky is the new reality and a few determined slum kids just might become heroes. This Texas Bluebonnet selection—a fantasy filled with daring and hope and a wonderfully imaginative world—is perfect for fans of Rick Riordan and Brandon Mull.
Once the Fog started rising, the earth was covered with a deadly white mist until nothing remained but the mountaintops. Now humanity clings to its highest peaks, called the Rooftop, where the wealthy Five Families rule over the lower slopes and floating junkyards.
Thirteen-year-old Chess and his friends Hazel, Bea, and Swedish sail their rickety air raft over the deadly Fog, scavenging the ruins for anything they can sell to survive. But now survival isn't enough. They must risk everything to get to the miraculous city of Port Oro, the only place where their beloved Mrs. E can be cured of fogsickness. Yet the ruthless Lord Kodoc is hot on their trail, for Chess has a precious secret, one that Kodoc is desperate to use against him. Now Chess will face any danger to protect his friends, even if it means confronting what he fears the most.
The Fog Diver
by Joel Ross
Overall Review:
The Fog Diver by Joel Ross will reach out and grab you when the first sentence reveals the main character was born in a cage above the Fog that has engulfed the earth. It will keep you in its grip with non-stop action, breathless escapes, heroic and funny characters, a plot filled with twists and turns, ruthless villains, and air machines complete with pirates.
The story line centers on four slum orphans who have been gathered and bonded together by Mrs. E. When she becomes ill from exposure to the Fog, these four—Chess, Hazel, Bea, and Swedish—hatch a plan to take her out of the enslavement of the slum and into freedom where she can be cured. Each of the characters has special talents. Hazel is the daring captain of their salvage raft. Swedish is the cynical pilot whose physical strength often comes to the rescue. Bea is the youngest, lovably naïve but a brilliant mechanic. Chess is the fog diver who has a hidden secret.
In addition to the exciting plot and the intriguing characters, the futuristic setting of the novel allows the reader to see happenings on our present earth through the eyes of young people in the future and that provides some humor to balance all the crises. There is a constellation named Oprah, paper money that is now used for toilet paper, and a hilarious description of how they think golf was played. Readers will enjoy the references to Star Wars and all the clever airships. There is even plenty of techy machines for those who like science fiction.
Although Joel Ross has three other novels to his credit, this is his first for middle grade readers and it has received a Cybil award. He has led an unusual life filled with travel, teaching, working for the CIA, and now writing novels. Needless to say, with these life experiences, we will be looking forward to the stories he has to tell and to The Lost Compass, the next book in the Fog Diver series.
Content Analysis:
Profanity/Language: None
Violence/Gore: Physical conflict between individuals but no gore; one character dies after being exposed to the Fog for too long; several chase scenes, narrow escapes, rough confrontations between individuals but not a lot of physical injury, air ship encounters with threatening language.
Sex/Nudity: Two individuals have a romantic relationship and hold hands.
Mature Subject Matter:
Socio-economic conflicts, serious illness, child exploitation, misuse of science and technology.
Alcohol / Drug Use:
None
Reviewed By Marilyn