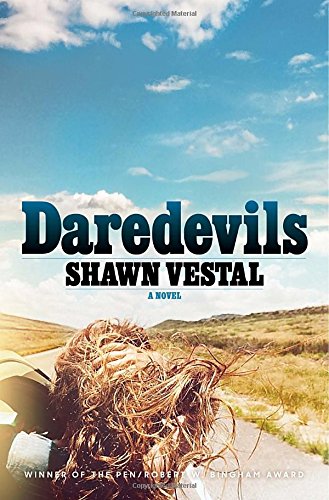 Publisher's Note:
From the winner of 2014's PEN Robert W. Bingham Prize, an unforgettable debut novel about Loretta, a teenager married off as a "sister wife," who makes a break for freedom

At the heart of this exciting debut novel, set in Arizona and Idaho in the mid-1970s, is fifteen-year-old Loretta, who slips out of her bedroom every evening to meet her so-called gentile boyfriend. Her strict Mormon parents catch her returning one night, and promptly marry her off to Dean Harder, a devout yet materialistic fundamentalist who already has a wife and a brood of kids. The Harders relocate to his native Idaho, where Dean's teenage nephew Jason falls hard for Loretta. A Zeppelin and Tolkien fan, Jason worships Evel Knievel and longs to leave his close-minded community. He and Loretta make a break for it. They drive all night, stay in hotels, and relish their dizzying burst of teenage freedom as they seek to recover Dean's cache of "Mormon gold." But someone Loretta left behind is on their trail...

A riveting story of desire and escape, Daredevils boasts memorable set pieces and a rich cast of secondary characters. There's Dean's other wife, Ruth, who as a child in the 1950s was separated from her parents during the notorious Short Creek raid, when federal agents descended on a Mormon fundamentalist community. There's Jason's best friend, Boyd, part Native American and caught up in the activist spirit of the time, who comes along for the ride, with disastrous results. And Vestal's ultimate creation is a superbly sleazy chatterbox—a man who might or might not be Evel Knievel himself—who works his charms on Loretta at a casino in Elko, Nevada.

A lifelong journalist whose Spokesman column is a fixture in Spokane, WA, Shawn has honed his fiction over many years, publishing in journals like McSweeney's and Tin House. His stunning first collection, Godforsaken Idaho, burrowed into history as it engaged with masculinity and crime, faith and apostasy, and the West that he knows so well. Daredevils shows what he can do on a broader canvas--a fascinating, wide-angle portrait of a time and place that's both a classic coming of age tale and a plunge into the myths of America, sacred and profane.
This book was sent to Compass Book Ratings for review by Penguin Press HC
Daredevils
by Shawn Vestal
Overall Review:
From the cover of this book, one might expect to read a Western, or maybe a Western romance. What you get is actually more of an adventure story with a little bit of amateur romance thrown in.
It is the 1970's. Add in a teenager in a Mormon family and the boy she thinks she loves, and you have what sounds like a teenage love story, but it is actually an adult novel that left me feeling like I wanted something more. I'm not really sure what, but this book didn't quite fulfill the expectations I had for it.
What attracted me to this book was the "cult" feeling I received when reading the synopsis. A young girl sneaking around with her illicit lover, caught, and then married off to someone who she barely knew. You had me at "married off". I didn't really feel like this book focused a lot on that point though, and rather was preoccupied with more of an action-packed story.
I'm sure this book will attract many people, and that many readers will love it. It simply wasn't my cup of tea.
Review of an Advance Reader's Copy
Content Analysis:
Profanity/Language: 3 religious exclamations; 3 mild obscenities; 1 derogatory name; 21 scatological words; 9 anatomical terms; 24 F-word derivatives.
Violence/Gore: An angry father slaps his daughter; characters poison wild rabbits that are causing a nuisance; a loved one is mentioned to have died; characters kill rabbits in a savage way, blood and gore is involved; a character injures their foot.
Sex/Nudity: A man has sex with his wife who is a minor; a man has multiple wives; a character notices a woman is not wearing a bra under her shirt; minors kiss and touch each other in a few different instances; mature sexual discussions are had.
Mature Subject Matter:
Racism, marriage, personal crises.
Alcohol / Drug Use:
Beer is drunk; adults smoke; a woman is mentioned to be drunk.
Reviewed By Lydia