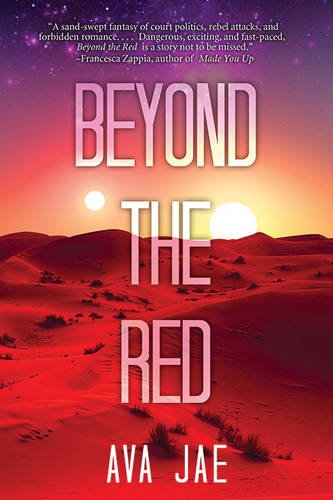 Publisher's Note:
Alien queen Kora has a problem as vast as the endless crimson deserts. She's the first female ruler of her territory in generations, but her people are rioting and call for her violent younger twin brother to take the throne. Despite assassination attempts, a mounting uprising of nomadic human rebels, and pressure to find a mate to help her rule, she's determined to protect her people from her brother's would-be tyrannical rule.

Eros is a rebel soldier hated by aliens and human alike for being a half-blood. Yet that doesn't stop him from defending his people, at least until Kora's soldiers raze his camp and take him captive. He's given an ultimatum: be an enslaved bodyguard to Kora, or be executed for his true identity—a secret kept even from him.

When Kora and Eros are framed for the attempted assassination of her betrothed, they flee. Their only chance of survival is to turn themselves in to the high court, where revealing Eros's secret could mean a swift public execution. But when they uncover a violent plot to end the human insurgency, they must find a way to work together to prevent genocide.
This book was sent to Compass Book Ratings for review by Sky Pony Press
Beyond the Red
by Ava Jae
Overall Review:
Beyond the Red is a riveting tale of adventure interspersed with a little humor, devotion, a love triangle, and much more. I'm unsure how it's possible that this is Ava Jae's debut novel, as it is so polished and has such a thoroughly developed plot. The map and pronunciation guide give one an idea of the amount of extensive detail included to immerse the reader in this fascinating book. Jae tapped into several senses including sight, as she created an exquisite world that one can only dream of visiting. As the chapters alternate between the points of view of the two main characters, Kora and Eros, you're able to not only go through their experiences but also understand their thoughts and feelings--becoming more engaged in their lives. This perspective also allows you to see their growth and development throughout the story. Beyond the Red will tug at your emotions and have you near tears (unless you succumb to said tears, as I did). Expect a bombshell or two, some that will just leave you shocked while others may or may not have you laughing out loud.
As of now this is a stand-alone book; however, Jae clearly left it open for (and has plans for) sequels.
Content Analysis:
Profanity/Language: 2 mild obscenities; 4 derogatory names; 3 scatological words; 4 anatomical terms; 19 F-word derivatives.
Violence/Gore: Many (57) brief incidents including character joking about playing dead; character should be dead; thinking about potential death; characters want another dead; verbal threats; talking about cutting hand off; execution ordered; several secondhand reports of murder; secondhand report of burn scars; reference to soldier dying while training; reference to war; punching; shoving; slapping; sparring; character is branded; several characters get hurt or killed with fantasy weapon; gory (brief) dream; character is threatened in dream; character attacked; throat slashed; attempted murder; tied up and tortured in jail; cut ear and neck; reference to bombing and rioting; explosion; several murders including genocide; characters poisoned and killed with brief detail of blood and gore.
One extended incident of characters getting attacked and killed.
Sex/Nudity: Many (57) brief incidents including touching face, neck, back and shoulder; arm around; kissing; holding hands; male character lays on top of female character to protect; cuddling; flirting; arm around waist to ride animal; dancing; hugging; prisoners are naked (non-sexual); secondhand report of little boy running around naked; character removes clothing for religious ritual; character offers to remove clothing to prove not strapped with bomb; reference to sex; reference to character probably being product of rape; character thinks about looking at and touching character sexually; character thinks about sex; innuendo; sexual dream; male character lays on top of female character; reported sexual activity; implied homosexual sex; reference to character getting girl pregnant; characters passionately kissing and male character fondles girl; female character sleeps naked with male in room; character sees another naked (sexual).
Mature Subject Matter:
Genocide, murder.
Alcohol / Drug Use:
References to drinking alcohol; prisoner drugged; characters drinking at a party; secondhand report of character getting drunk.
Reviewed By Jenny