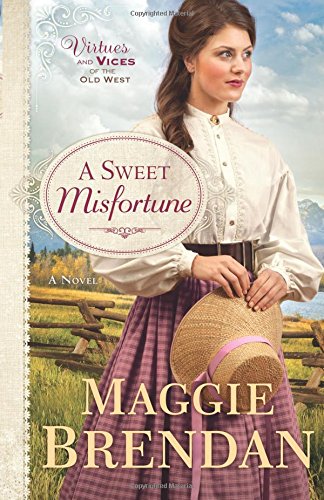 Publisher's Note:
Rachel Matthews isn't one to rely on others to take care of her. Destitute and alone, she still wants to make her own way and her own money--even if she's forced into the life of a dance hall girl. Horrified by her circumstances, Rachel's brother sends a friend--the widely admired cattle baron John McIntyre--to rescue her, then sets off to earn enough money to buy back the family ranch. But when months pass without her brother's return, Rachel isn't sure she can take one more day in John McIntyre's home--especially once she discovers that he's the one who holds the deed to her family's ranch.

Sparks fly between this spunky, independent heroine and the ruggedly handsome hero as they navigate the snarled terrain of pride, greed, faith, and love in Maggie Brendan's delightful series set in the Old West.
This book was sent to Compass Book Ratings for review by Revell
A Sweet Misfortune
by Maggie Brendan
Overall Review:
A Sweet Misfortune is the second in the Virtues and Vices of the Old West series. Although the stories both take place in Montana territory, the characters and towns are different and the books stand alone. Maggie Brendan sets this historical story in 1862. It seemed a bit odd that the Civil War was not even mentioned.
The ideas for this book are good, but it falls a bit short. The leading male character, John, is fairly flat and the relationship between him and Rachel lacks any real depth until the last few pages when he gives her a thoughtful gift. The romance was lacking here. Especially John's extremely bare bones proposal. The author tried to build the romance, but it just didn't feel believable.
There is also not enough detail about Rachel and her brother to explain why he left her without someone to look after her. In those days young women were not left without a chaperone. It seemed extreme that she would work as a dance hall girl without a detailed explanation as to why her brother abandoned her.
The thought of a person working in a saloon and then being able to leave that behind and improve her life is a great concept, but it was hard to get into the characters. The previous book The Trouble with Patience had a much better romantic development and the characters seemed more interesting. A Sweet Misfortune is not a bad read, just not as engaging as it could have been.
Content Analysis:
Profanity/Language: None
Violence/Gore: Character drags another outside and carries her on his horse; character shoots a rabid animal; report of a child being beat by adults, no details.
Sex/Nudity: Person works in a saloon where there are prostitutes; several women are referred to as "soiled doves;" a character asks another if she is in man's bed now; non-married characters kiss and embrace.
Mature Subject Matter:
Death of parents and siblings, prostitution.
Alcohol / Drug Use:
People in a saloon are referred to as drunken.
Reviewed By Susan