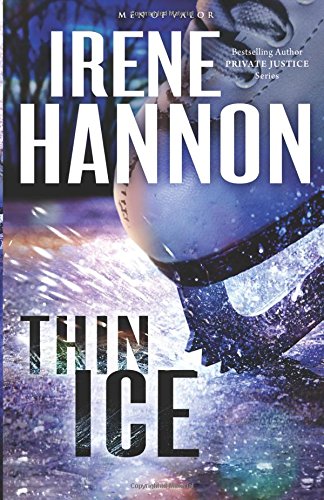 Publisher's Note:
After losing her parents in a car accident and her sister to a house fire, Christy Reed has been mired in grief. Life is finally starting to feel normal again when an envelope arrives in the mail--addressed in her sister's handwriting. And the note inside claims she is still alive.

FBI Special Agent Lance McGregor, a former Delta Force operator, is assigned to reopen the case, but he's coming up with more questions than answers. If Ginny Reed is still alive--who is the woman buried in her grave? Where is Ginny? And is Christy a pawn in a twisted cat-and-mouse game--or the target of a sinister plot? As he digs deeper, one thing becomes clear: whoever is behind the bizarre ruse has a deadly agenda.

Bestselling author and two-time Christy Award finalist Irene Hannon warms readers' hearts as they root for a romance between Lance and Christy, but she pulls out all the stops as this high-stakes thriller chills to the bone in a race to the finish.
This book was sent to Compass Book Ratings for review by Revell
Thin Ice
by Irene Hannon
Overall Review:
Three brothers who retire from the United States Special Forces are featured in the Men of Valor series by Irene Hannon. Astute readers will recognize them from previous series written by Hannon. Irene Hannon continues her Men of Valor series with Thin Ice. Readers can easily pick this up as a standalone, but they will find the experience enriched by reading the previous book, Buried Secrets. There are some really creepy elements to this story and although it has a religious undertone, Hannon delivers a plot revolving around a twisted, evil person. Don't expect this to be a cuddly romance.
There are a couple of things which cause minor irritation in this story. One is overuse of the terms Olympic skater and skater. Hannon uses synonyms to describe the main female character Christy, but she used the aforementioned words a few too many times. Secondly, the romance aspect seemed over-emphasized too early in the book. At first it distracted from the story, but then the plot started moving the characters forward and there was less room for the overtly romantic tone.
The relationship of the McGregor brothers is enjoyable to follow. It is nice to see families who truly care about one another. An additional plus is having all those connections which help solve mysteries. Enjoy finding out how things go for the middle brother, Lance McGregor. Also look forward to romance, mystery, and intense emotional scenes. Another thing to eagerly anticipate is the third book, which will follow Finn McGregor.
Content Analysis:
Profanity/Language: None
Violence/Gore: Reports of people hitting others with fists; character kills animals by torturing them; reports of boys shot by soldiers; report of a military assault in which many are killed by gunshot and a man's head is shot off, no blood; report of a person killed by a bus; report of a character found hung and suicide is implied; report of thousands slaughtered in genocide; person is grabbed and restrained with duct tape; person threatens another with a gun and threatens to kill her; blood flows from a head injury.
Sex/Nudity: Report that women were violated publicly by soldiers; one use of word sexy; one character is a prostitute; mention of a character's pimp; reference to customers of a prostitute; report that a prostitute spent a night at a motel with a client; a corpse is reported as nude, no details.
Mature Subject Matter:
Death of family members, murder, war, post-traumatic stress disorder, kidnapping.
Alcohol / Drug Use:
Adult character consumes beer; report of character having a drinking problem and being drunk; report of a teen drinking and smoking pot.
Reviewed By Susan