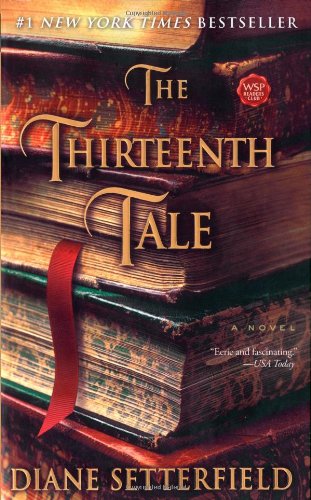 Publisher's Note:
Biographer Margaret Lea returns one night to her apartment above her father's antiquarian bookshop. On her steps she finds a letter. It is a hand-written request from one of Britain's most prolific and well-loved novelists. Vida Winter, gravely ill, wants to recount her life story before it is too late, and she wants Margaret to be the one to capture her history. The request takes Margaret by surprise–she doesn't know the author, nor has she read any of Miss Winter's dozens of novels.

Late one night while pondering whether to accept the task of recording Miss Winter's personal story, Margaret begins to read her father's rare copy of Miss Winter's Thirteen Tales of Change and Desperation. She is spellbound by the stories and confused when she realizes the book only contains twelve stories. Where is the thirteenth tale? Intrigued, Margaret agrees to meet Miss Winter and act as her biographer.

As Vida Winter unfolds her story, she shares with Margaret the dark family secrets that she has long kept hidden as she remembers her days at Angelfield, the now burnt-out estate that was her childhood home. Margaret carefully records Miss Winter's account and finds herself more and more deeply immersed in the strange and troubling story. In the end, both women have to confront their pasts and the weight of family secrets. As well as the ghosts that haunt them still.
The Thirteenth Tale
by Diane Setterfield
Overall Review:
From the very first page I was drawn into this tale. It is eloquent and engaging; A book about lovers of books, writers, sisters and secrets. It is wrought with symbolism. The Thirteenth Tale is contemporary, yet written with an old, classic style. There are many references to Wuthering Heights and Jane Eyre, and the tone of this book is very reminiscent of those two works. It is disturbing and darkly fascinating. Vida Winter is renowned as the best storyteller in the whole of England, but no one knows who she really is or anything of her past. She is dying and now needs to tell the truth about her past. You wonder what will happen: Why did Miss Winter change her name and identity in the first place? What will happen to her and her sister? As she tells her story, you are drawn into her world. You live and breathe her characters. It lingers in your mind and calls to you every time you have to put it down. The big plot twist near the end completely took me by surprise! It was definitely not what I was expecting. There were a few times when the feeling of heaviness was a bit overwhelming, and I felt that the 'Postscriptum' at the end was just a touch over the top and took away from the story a bit, but other than that, I was completely enthralled by this book. It was a fulfilling story—and I will never look at twins the same way again!
Content Analysis:
The content in this book is interesting. While I was reading, I hardly noticed it. That may sound funny, but the way it was written was very beguiling. There were horrible atrocities: Rape, fornication, murder, incest, insanity, serious mental issues, hate crimes, sadism and masochism… All of this and more is there within the pages of this book. However, it is all written as innuendoes, inferences, mere hints of the real events. Everything is told as a sort of afterthought or a shadow of the real event—as if you barely glance at it in your peripheral vision. This does soften the blow and definitely stays true with the whole theme of the book: Secrets. There are other themes of death, loss, disease and family relationships. Many characters die—some die of natural causes, others by foul play. There are accidents involving shotguns. More than one character enjoys beating up and hurting others and themselves. A character starts a fire; one character dies, and two others are disfigured. There are less than 10 instances of profanity, and they are all mild.
Mature Subject Matter:
***
Alcohol / Drug Use:
***
Reviewed By Emily