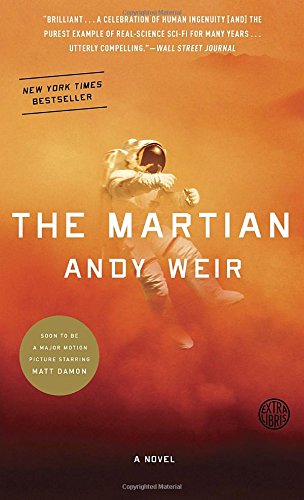 Publisher's Note:
Six days ago, astronaut Mark Watney became one of the first people to walk on Mars.

Now, he's sure he'll be the first person to die there.

After a dust storm nearly kills him and forces his crew to evacuate while thinking him dead, Mark finds himself stranded and completely alone with no way to even signal Earth that he's alive—and even if he could get word out, his supplies would be gone long before a rescue could arrive.

Chances are, though, he won't have time to starve to death. The damaged machinery, unforgiving environment, or plain-old "human error" are much more likely to kill him first.

But Mark isn't ready to give up yet. Drawing on his ingenuity, his engineering skills—and a relentless, dogged refusal to quit—he steadfastly confronts one seemingly insurmountable obstacle after the next. Will his resourcefulness be enough to overcome the impossible odds against him?
The Martian
by Andy Weir
Overall Review:
The Martian is a brilliant book that spawned from a brilliant mind. I am still in awe as to how Andy Weir came to know everything he had to know in order to write this book. It is science-y to the extreme and full of math-geek knowledge. And yet it is somehow intriguing to more than just the NASA crowd. It was a New York Times Bestseller after all, and it currently is blossoming in its movie career. I admit, I watched the movie before I became interested enough to read the book. Going into the movie I thought, "A story where a man is all by himself in space? How could this possibly be interesting?" I humbly admit I was wrong.
However, I also think that if you are pressed for time and don't want to read the book, the movie is quite a good substitute and you don't need to feel ashamed. The book was simply more detailed in all the science and math aspects, and not all of us feel sad in sacrificing some of that.
This book review I have written is based off the original novel published by Broadway Books. However, it has come to my attention that a "Classroom Edition" has been published. It basically cleans up all of the profanity, according to my understanding. This is a relief, in my opinion, because as you will see when you scroll down and look at the amount of profanity in the original version, it is relatively high.
Content Analysis:
Profanity/Language: 30 religious exclamations, 96 mild obscenities, 10 religious profanities, 13 derogatory names, 90 scatological words, 47 anatomical terms, 59 f-word derivatives.
Violence/Gore: A character receives a wound (graphic); a character makes a gruesome joke; there is an explosion with no casualties or injuries; a character discusses suicide; there is another explosion and a character is knocked out but uninjured; a character talks about the possibility of cannibalism in a hypothetical situation; a joke about cannibalism; a joke about murder; a character uses the word "rape" as a sort of metaphor; a character gets two broken ribs.
Sex/Nudity: A character makes a crude joke; prostitution is used as an insult; a joke about sexual orientation; a crude joke; a crude joke; sexual innuendo; a character suggests that two characters sleep together; a couple of sexual innuendos; a character kisses another character's helmet.
Mature Subject Matter:
Abandonment, considered suicide, a character coming face to face with death on several occasions.
Alcohol / Drug Use:
A character takes prescription drugs (not prescribed because he is stranded alone on Mars); mentions drinking alcohol (or buying alcohol) a few times.
Reviewed By Amber