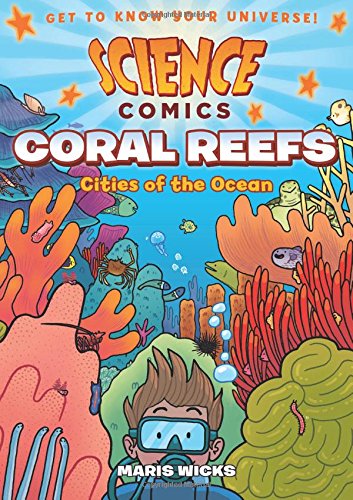 Publisher's Note:
Every volume of Science Comics offers a complete introduction to a particular topic--dinosaurs, coral reefs, the solar system, volcanoes, bats, flying machines, and more. These gorgeously illustrated graphic novels offer wildly entertaining views of their subjects. Whether you're a fourth grader doing a natural science unit at school or a thirty-year-old with a secret passion for airplanes, these books are for you!
This volume: in Coral Reefs, we learn all about these tiny, adorable sea animals! This absorbing look at ocean science covers the biology of coral reefs as well as their ecological importance. Nonfiction comics genius Maris Wicks brings to bear her signature combination of hardcore cuteness and in-depth science.
This book was sent to Compass Book Ratings for review by First Second Books
Science Comics: Coral Reefs: Cities of the Ocean
by Maris Wicks
Overall Review:
Science Comics: Coral Reefs: Cities of the Ocean, is one of two volumes in the Science Comics series with more to come later this year.
Readers are introduced to the world of underwater splendor with a congenial intro by an actual scientist who studies aquatic life. This establishes the playful rhetoric readers are in for once they begin the graphic novel. With beautiful colors and friendly animation, author and illustrator Maris Wicks does a fabulous job making science accessible and entertaining.
What makes the novel so fun? For starters, readers get their very own tour guide in the form of a friendly fish. This narrator endearingly cracks jokes while informing readers all about the eco-system of the coral reefs.
This graphic novel will capture the attention of varying audiences. The brightly colored pictures will draw in young and old alike, while the scientific information is geared toward a fourth grade to seventh grade level readers, but anybody with an interest in underwater life will benefit from the novel, as it is full of impressive data.
Want to learn more? The author doesn't leave the reader hanging, as she includes additional resources for those wanting to increase their knowledge about ocean life and coral reefs.
Science seriously just got a dose of adorableness while still maintaining its cool factor in Maris Wicks Science Comics: Coral Reefs: Cities of the Ocean.
Content Analysis:
Profanity/Language: None
Violence/Gore: Animals eat one another for food.
Sex/Nudity: Brief mention of sperm, reproduction, and fertilization.
Mature Subject Matter:
None
Alcohol / Drug Use:
None
Reviewed By MaryLou